About Us
ServiceMaster Janitorial Mobile is AL 's choice for commercial cleaning services for office buildings, industrial cleaning, retail and medical cleaning. We provide commercial cleaning services in all of the surrounding areas.
Our mission is three-fold:

Quality – Response – Simplicity
Quality. Quality control of all cleaning services through hiring practices, training, supervision, follow-up and technology.
Response. Fast, reliable, measurable response to our customer's needs, most often the same day. Communication is the key to receiving a quick response. Simply pick up the phone or send an email and our team will be available to you.
Simplicity. We offer a complete package for all our clients. From janitorial cleaning services to project work like carpet cleaning and hard floor care, to providing all types of janitorial cleaning products and supplies. No need to work with several vendors; we're your one-stop-shop for all your cleaning and supply needs.
Our Story
This website primarily emphasizes disaster restoration simply because most people look to the internet to hire a mitigation company for water damage restoration, fire restoration, mold mitigation, and carpet cleaning. Many times they don't know who to call. On the other hand, janitorial service companies tend to call on businesses that may need janitorial. The web presence isn't as important as it is for our disaster restoration company, because we sell business to business. WIth that said, our janitorial service company ServiceMaster Services, is one of the largest locally owned janitorial and industrial cleaning companies operating along the Gulf Coast. It is one of our premier and most important offerings. We have done this over the past 30 years without a significant web presence!
***Don't let a fancy web site fool you. Due to confusion on Google, and Google's inability to let us have a several services offered at the SAME location, we are unable to have a GOOGLE web site specifically dedicated to janitorial at our (Fairway Drive Street Address) without making it impossible to find our water damage companies. It's ridiculous, but if we dedicate a web site for janitorial, they drop our water damage offerings, and list us as janitorial only! Since people NEED to find us in emergencies, we have to list ourselves as water, fire and mold remediation. WIth that said, we are still one of Mobile's largest janitorial companies.***
This isn't merely janitorial service that meets the need, it's janitorial that exceeds the need. This isn't reactive janitorial that you have to monitor, it's janitorial service that is pro-active and anticipates the customer's needs!
Our two companies are market leaders in both mitigation and janitorial. The combined forces of these two entities bring more cleaning solutions, mitigation capabilities, and building problem solving to the table, than any single entity in the Mobile, Baldwin County or Coastal Mississippi area. Period.
First and foremost, we have three ideally located offices to serve the entire area from Perdido Key & Orange Beach, to Gulfport and Pascagoula, Mississippi. We can be anywhere in the area within 45 minutes tops.
Our two companies have been serving Mobile and Baldwin Counties for over 30 years, and between these two companies we offer:
1. Water Damage Restoration, Fire Damage Restoration. We are one of the largest providers on the Gulf Coast of these services. We have served thousands of homes and businesses over the past thirty years, and we have worked for every insurance company in our area. We are affiliated with the several largest insurance companies (in terms of policies in force), in our area; by virtue of our being on their insurance "programs" - the pre-qualification with the insurance companies, in order that they may send direct assignments to us.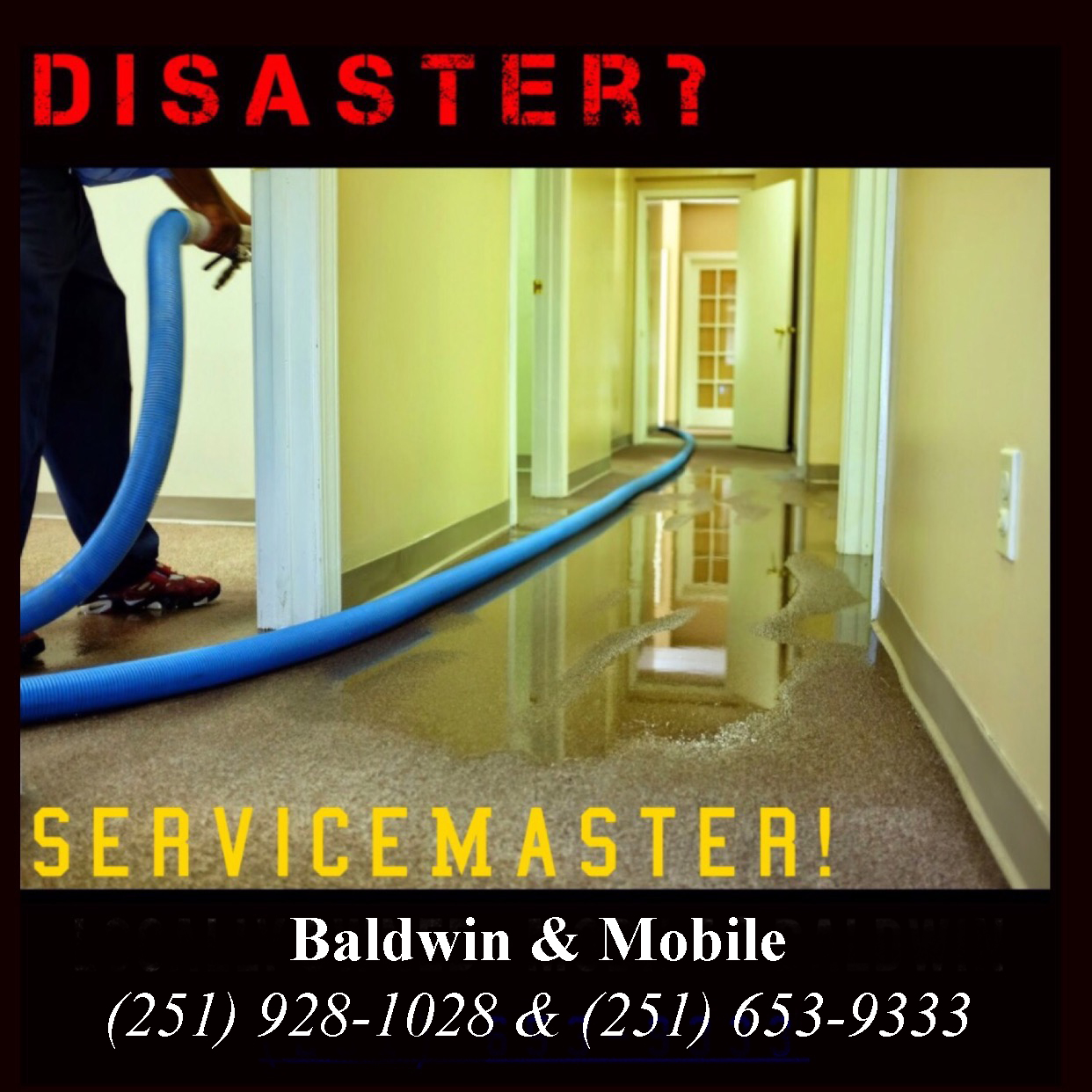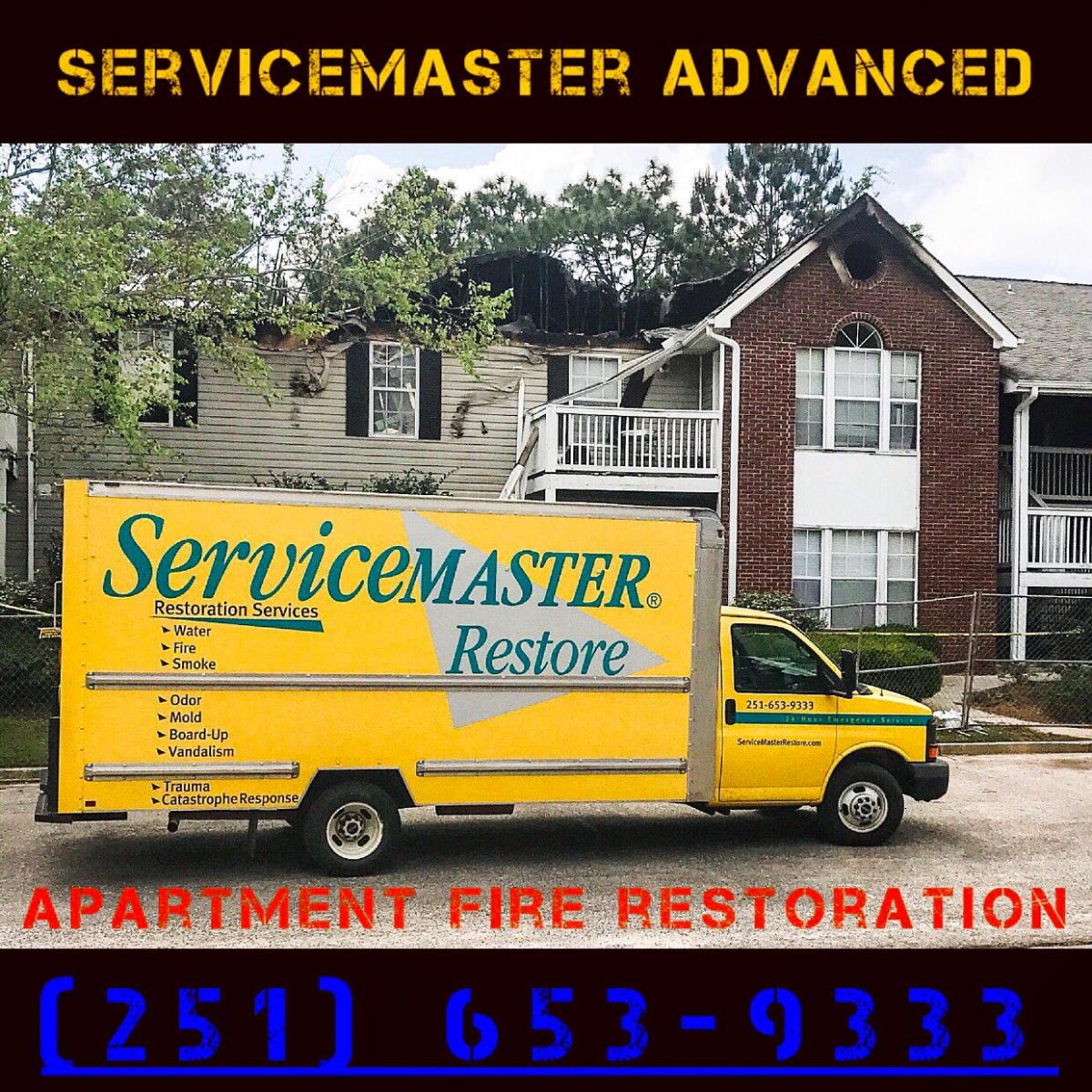 2. Mold Remediation, Mold Assessment & Testing. Our knowledge and procedures in this area have led to efficiencies that translate into us being one of the lowest cost providers. We do not cut corners, and our service involves total mold removal, and post-remediation testing to guarantee that your structure is suitable for occupancy and that your health is not in danger.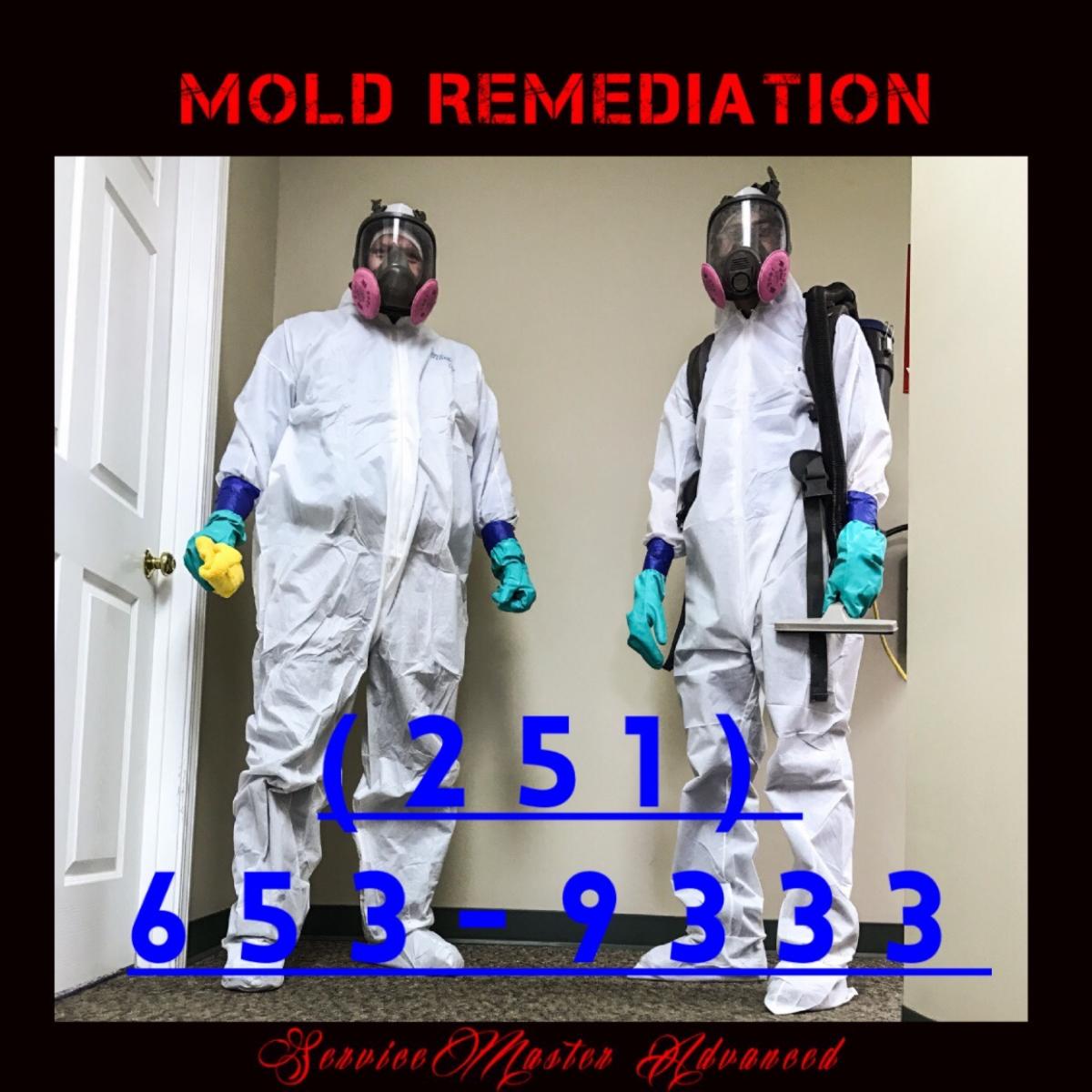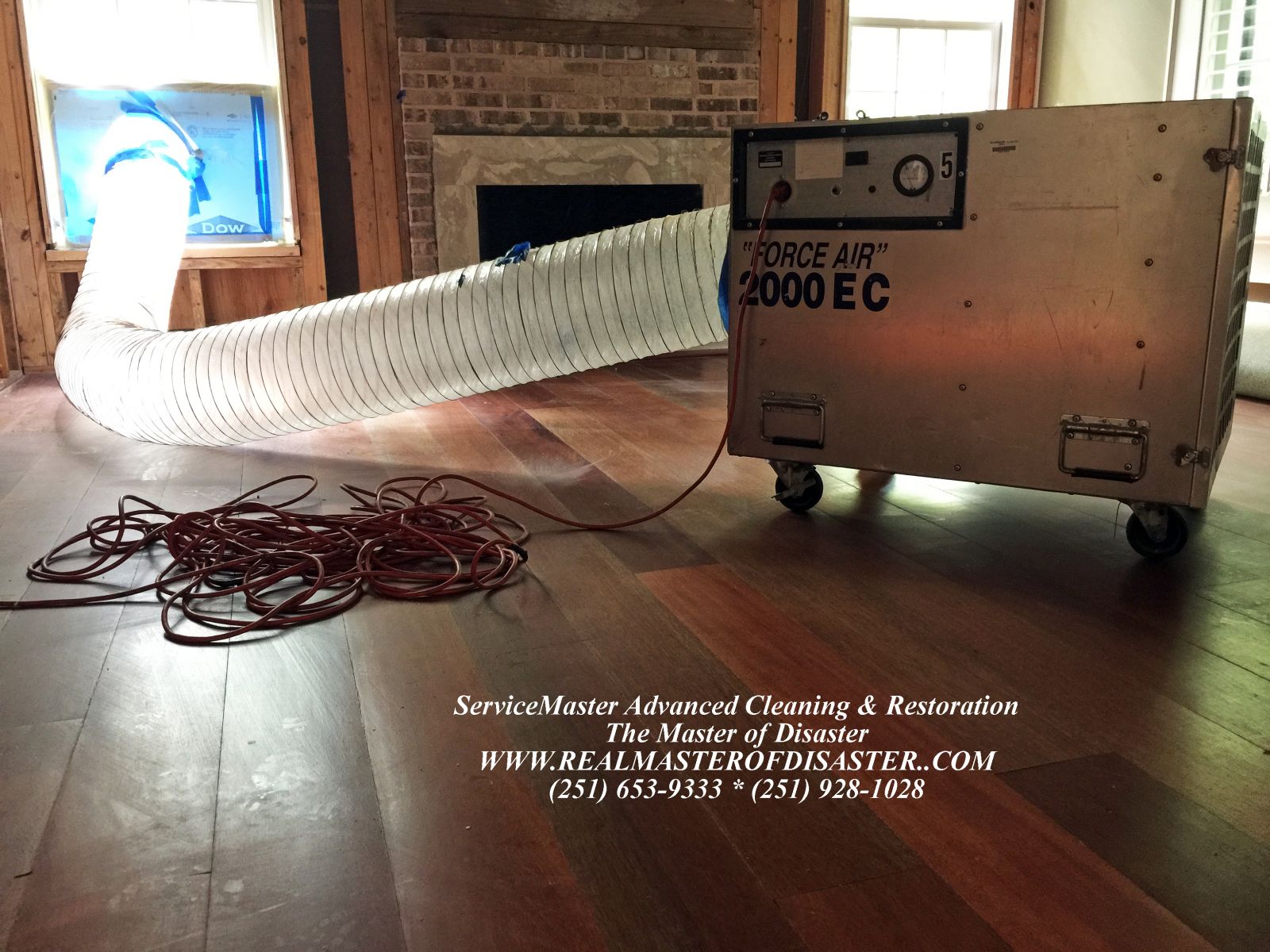 3. Commercial & Industrial Janitorial Services - proven ability to handle janitorial accounts in excess of 500,000 square feet. Needless to say, we will not publish our client list, but we will gladly provide references. We have some large accounts that we have served for over 22 years, and we serve some of the area's largest employers. We enjoy a good reputation, and serve many large industrial accounts. Our workman's comp experience modifier has been below one, for many years; and we make safety our priority. We receive a safety award from our carrier every year. We know and understand industrial cleaning, and are able to bring our disaster restoration expertise to the table under one service.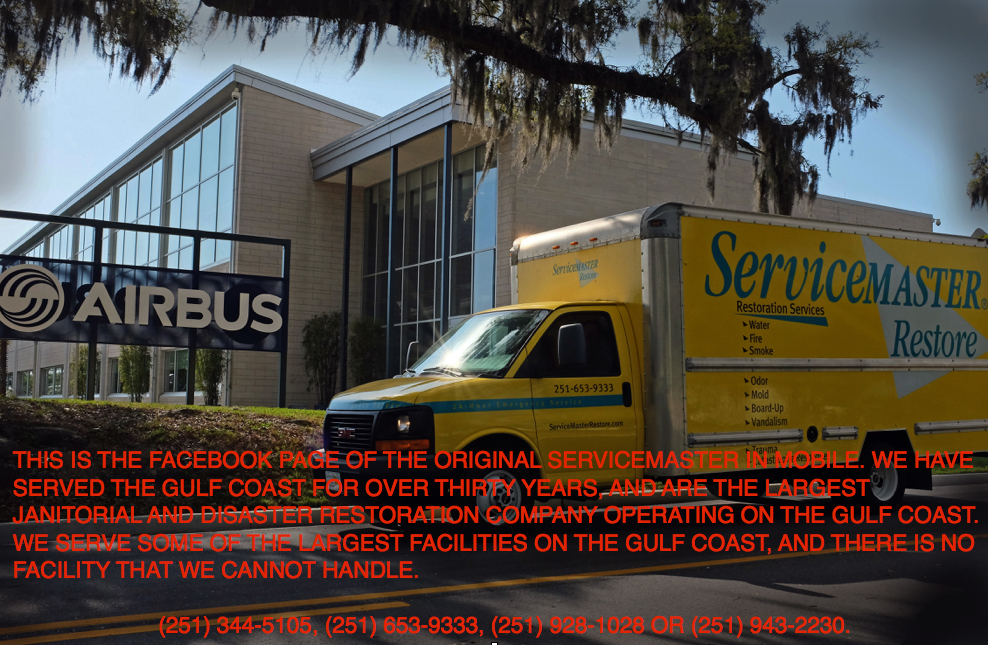 4. Forensic & Trauma Cleanup Services. This is a highly specialized cleanup service that requires not only training, but dignity and respect. It also understood that our people remain cognizant of their duty to remain silent in these very sensitive situations.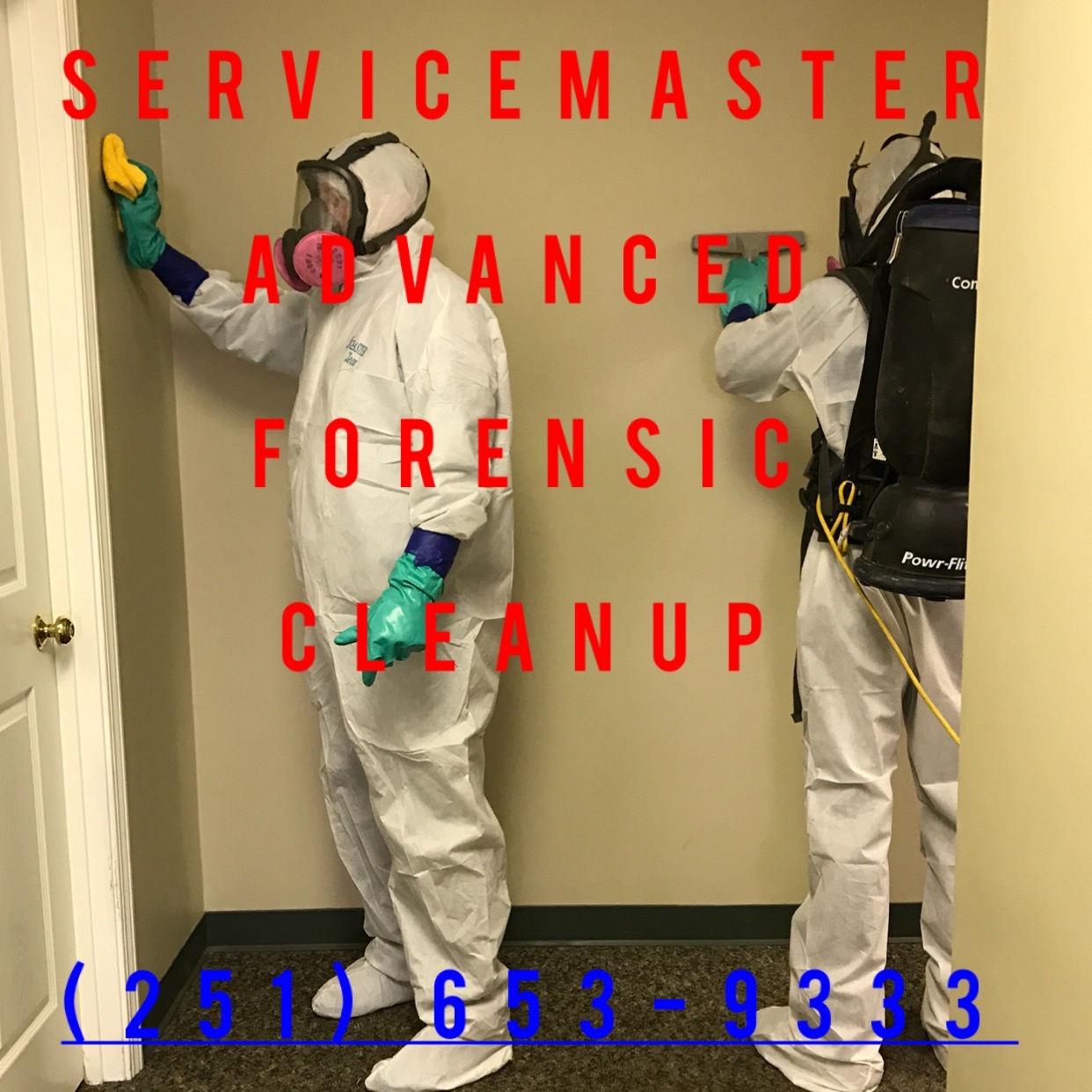 5. Carpet Cleaning (Few, if any, janitorial services can offer truck-mounted carpet cleaning).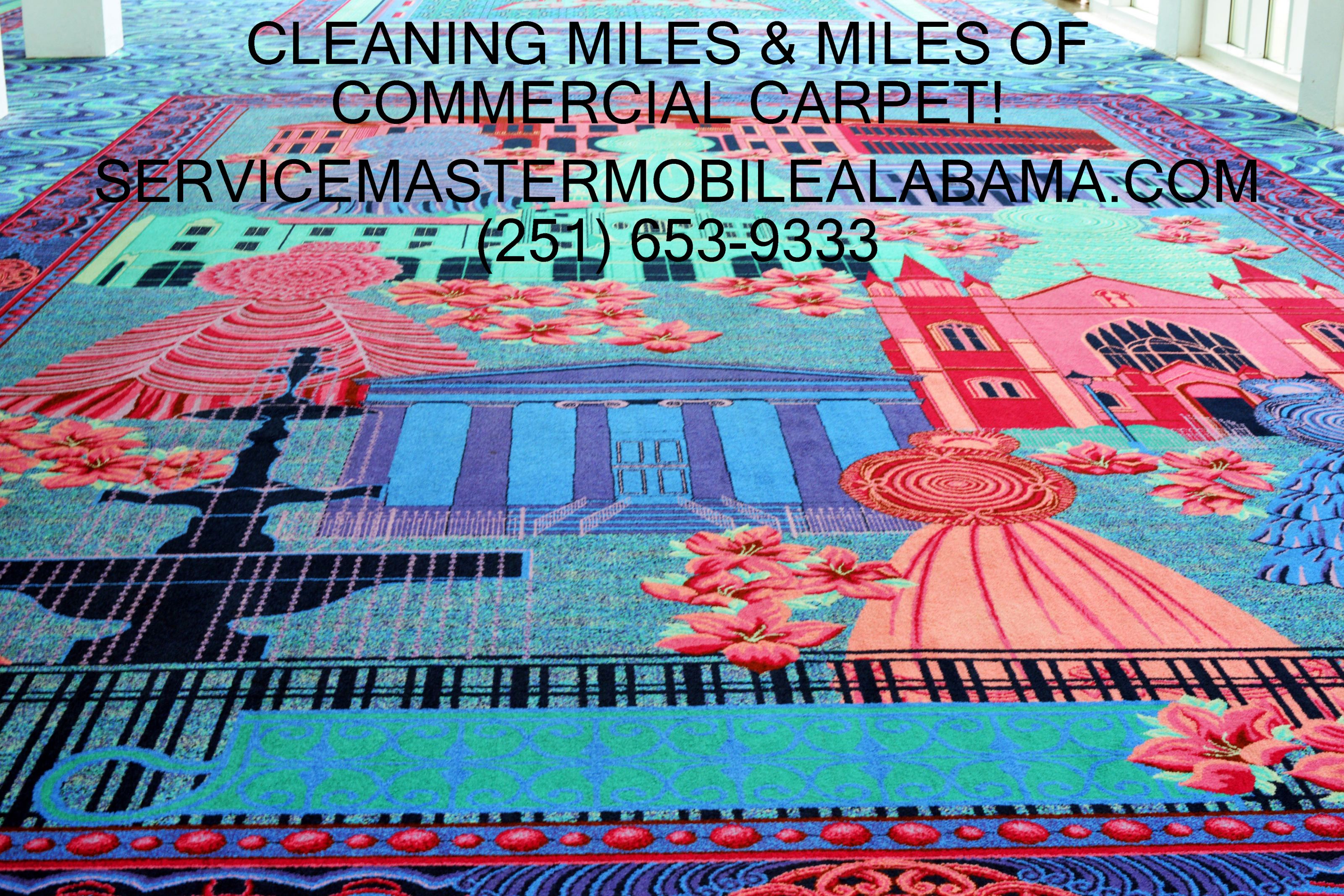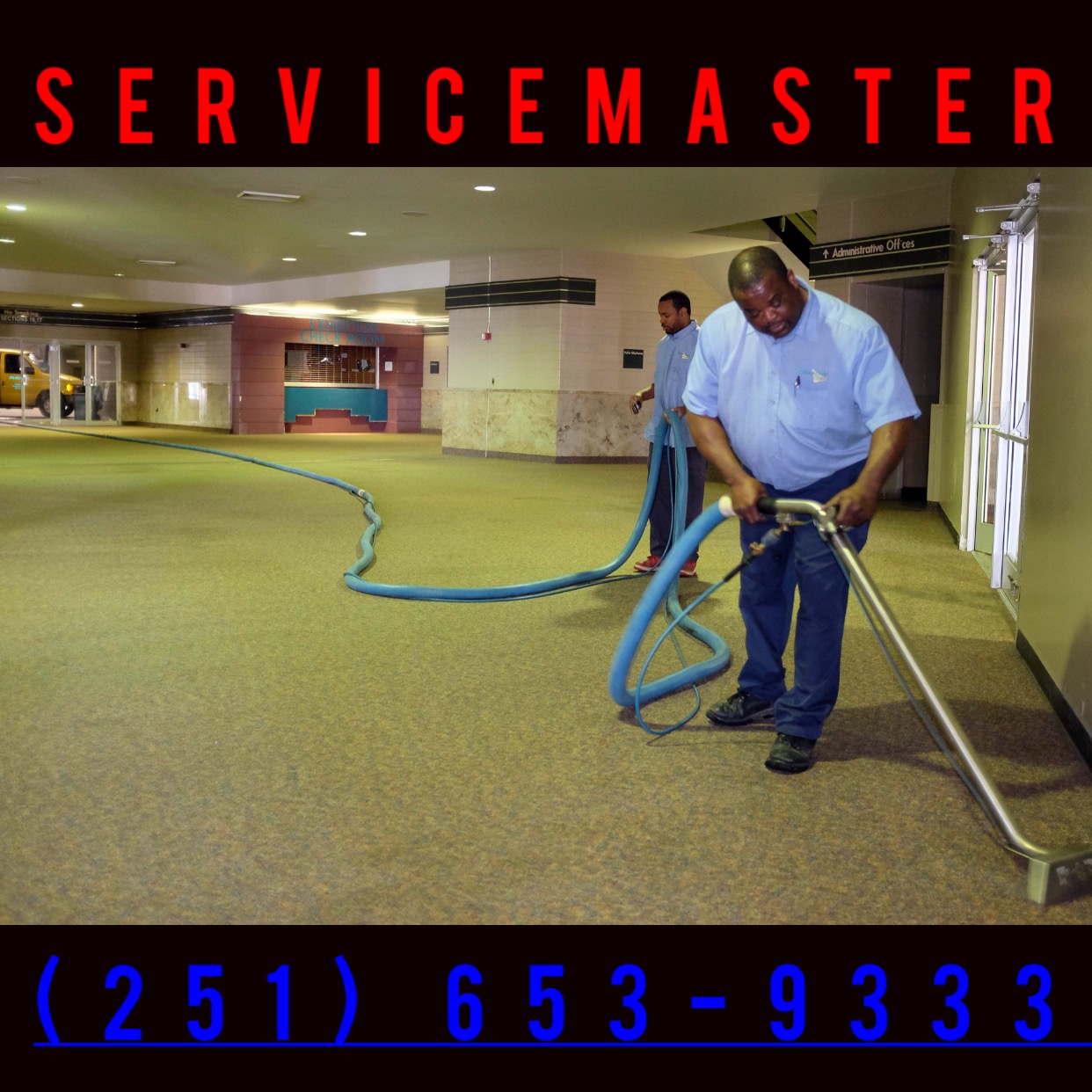 6. Hard Surface Floor Stripping, Waxing & Maintenance (before & after below). We have large auto scrubbers to tackle large jobs as big as malls and large box stores.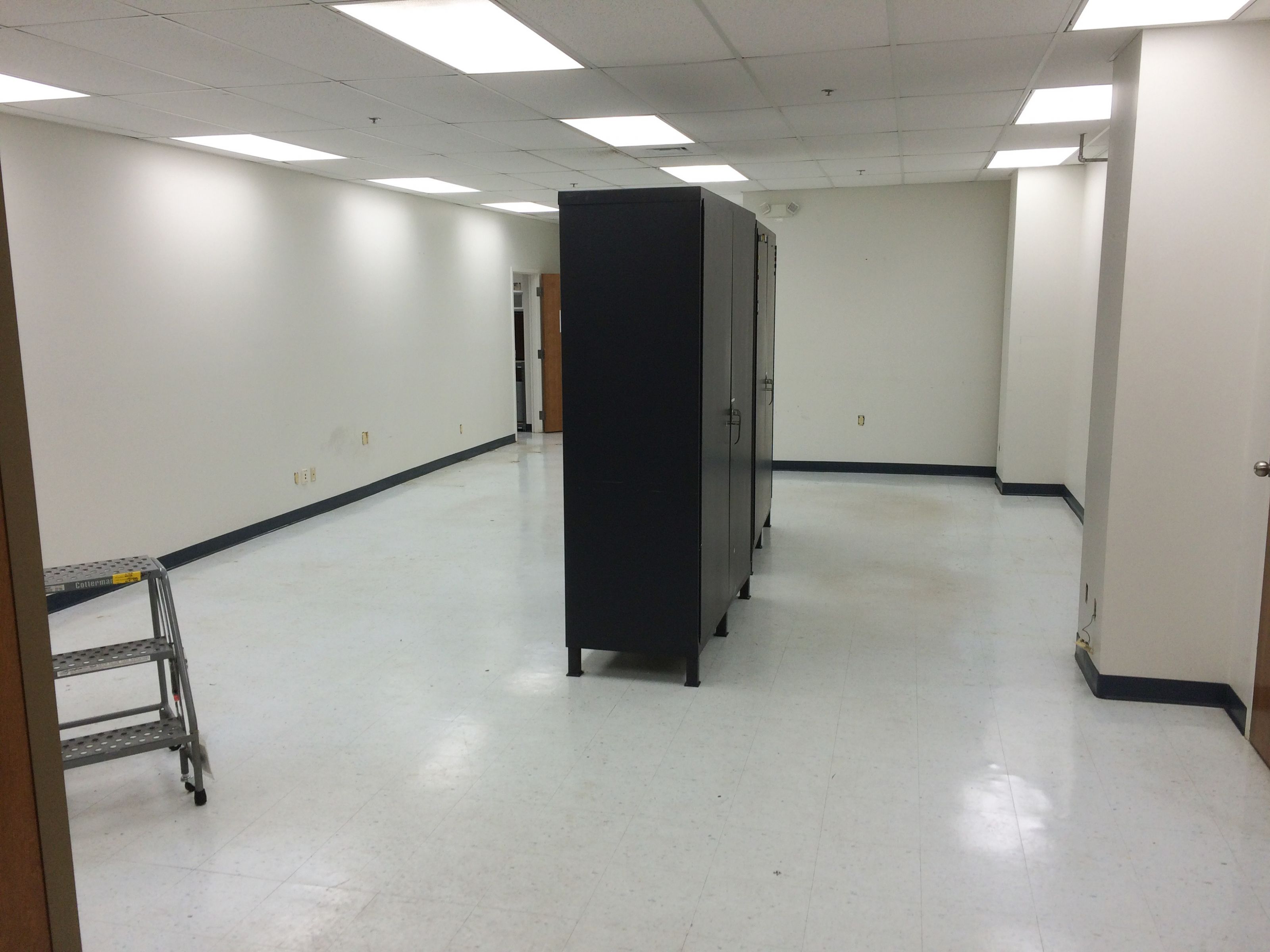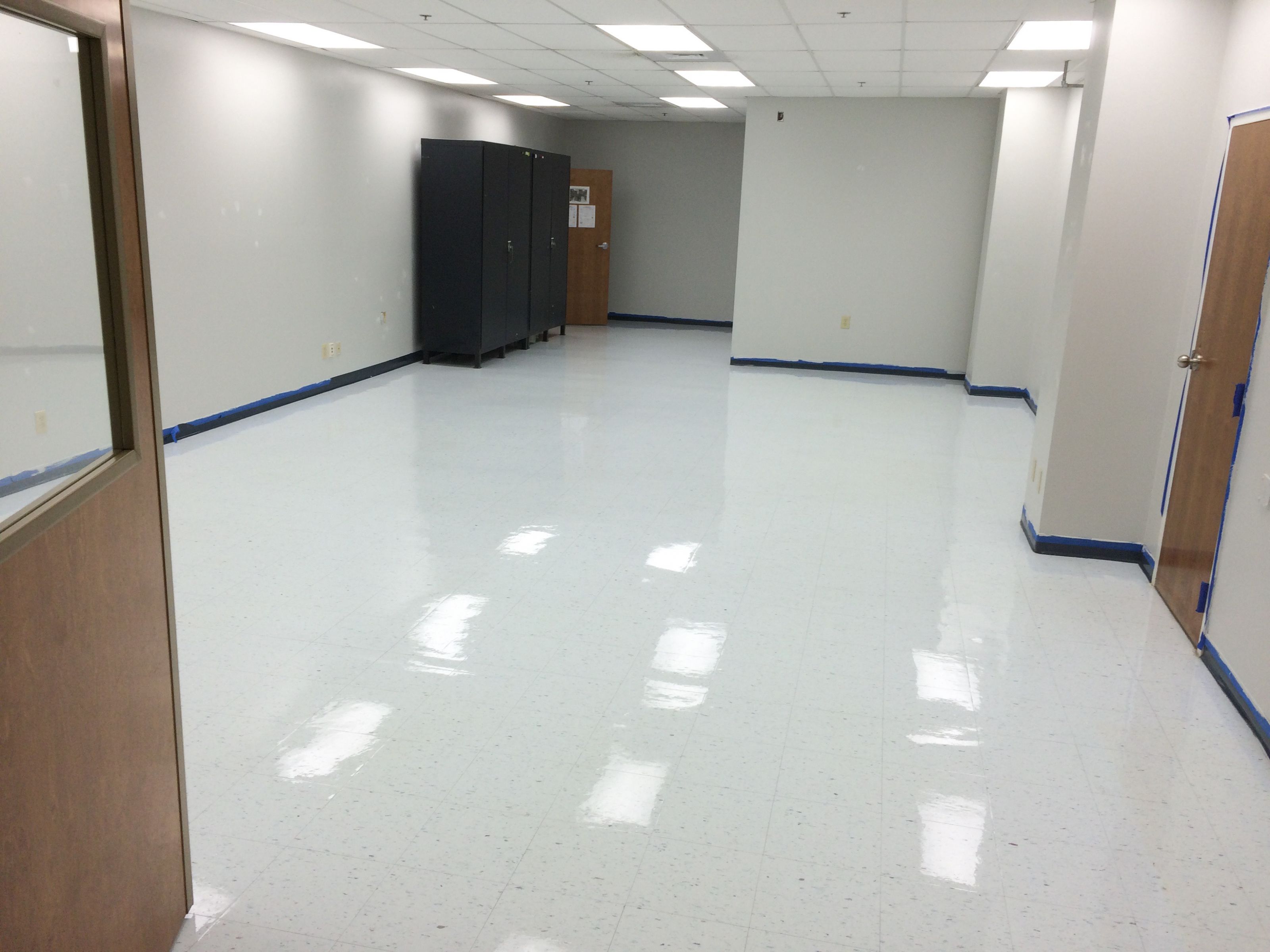 7. Grout Cleaning - with a truck mounted steam attachment that ensures excellent results. We have several methods of attacking grout, but this steam cleaning method is one of the best.
8. Window Cleaning. We have done large buildings and small ones. We can add this service to a janitorial contract or provide it as a stand-alone service.
9. Post-Construction Cleaning - both commercial & residential. We have done huge warehouses, box stores and multi story buildings in preparation for occupancy.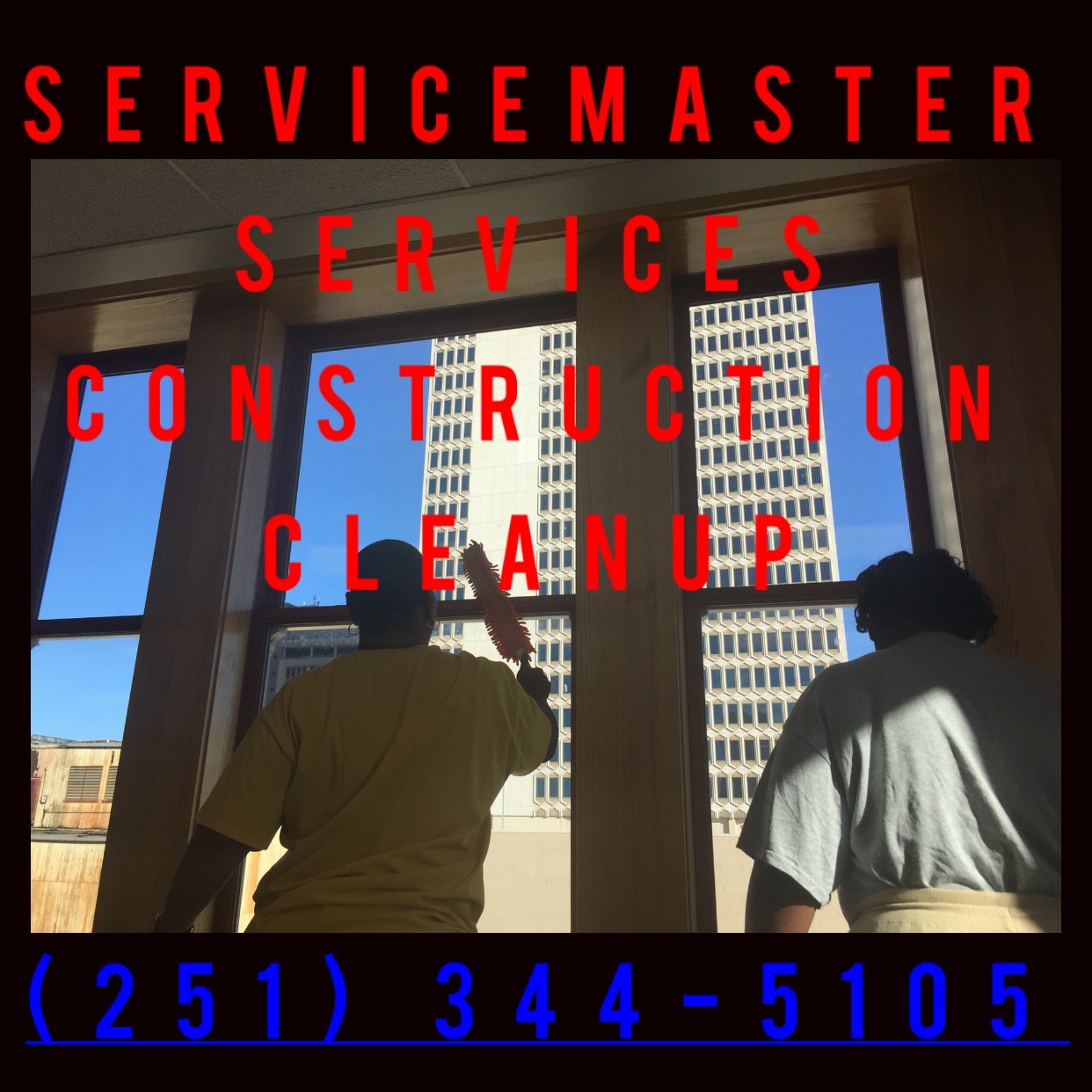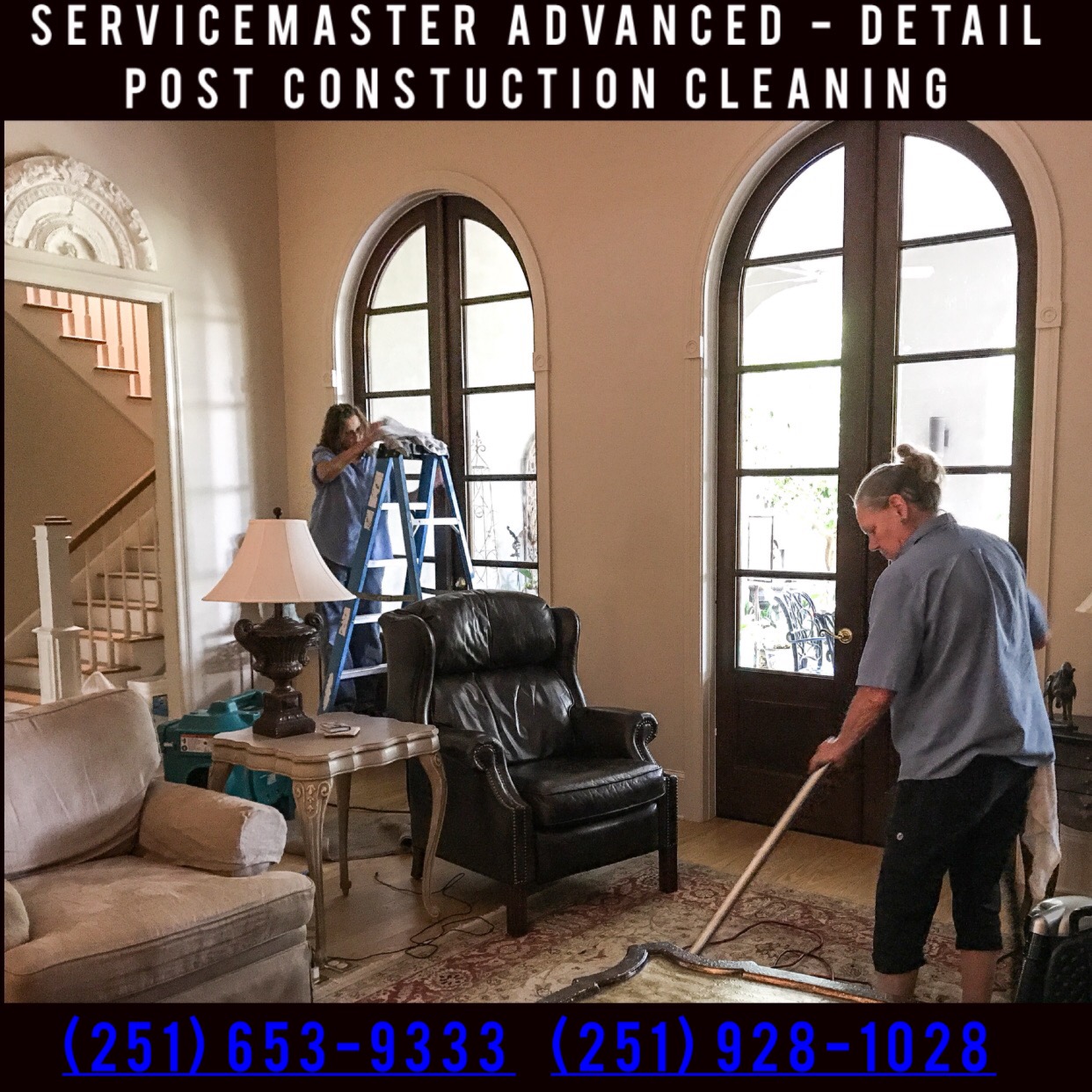 10. Temporary Labor Staffing - yes we provide temps to our many commercial & industrial clients when needed. Many have called us to simply staff an office event or company picnic.
11. Pressure Washing. We also have a disc that works fast and efficiently on horizontal surfaces.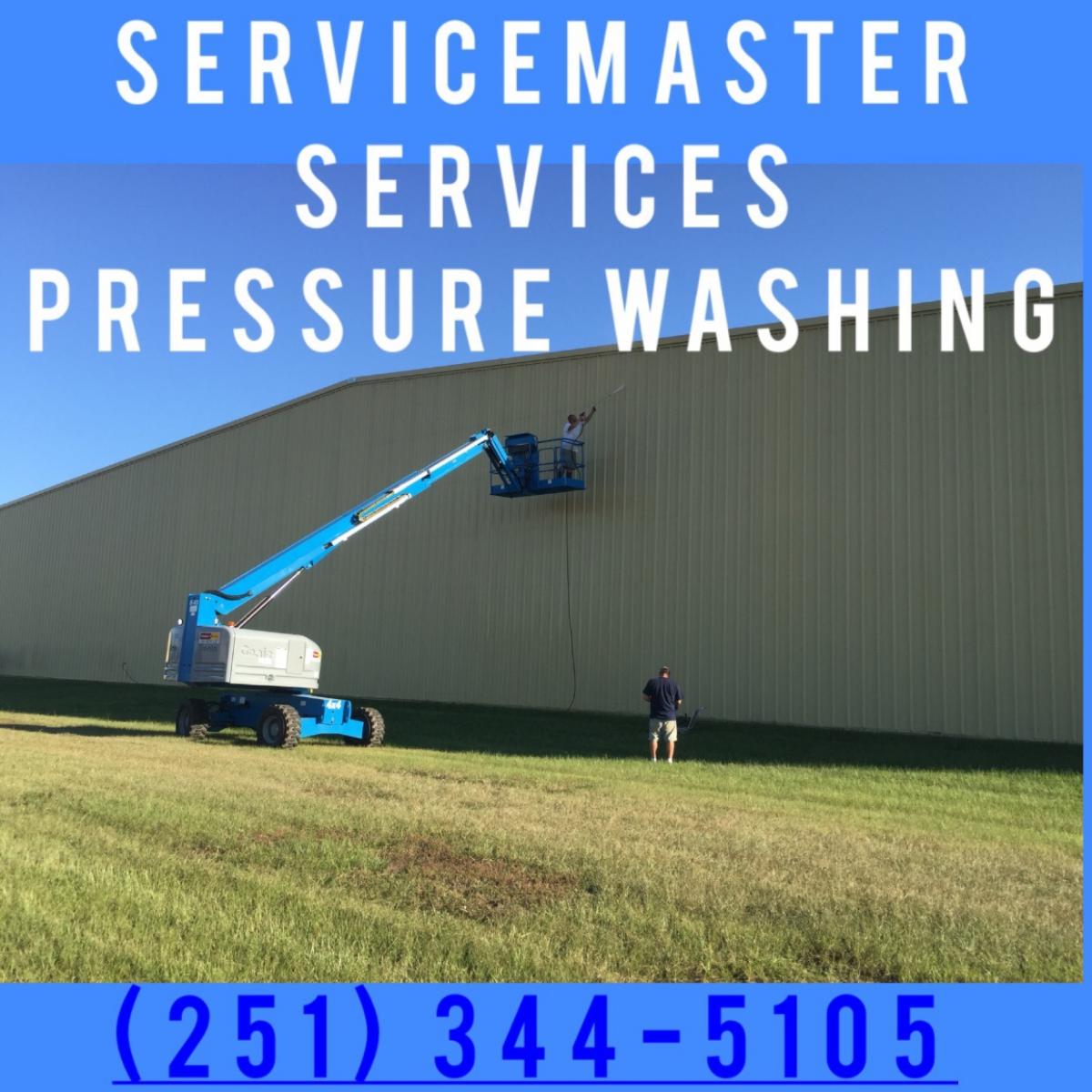 12. Smoke & Odor Cleanup - we eliminate the really tough residential & commercial problems. We have the ability to clean up smoked-in houses and buildings prior to listing for real estate professionals. This is an extension of of fire restoration service.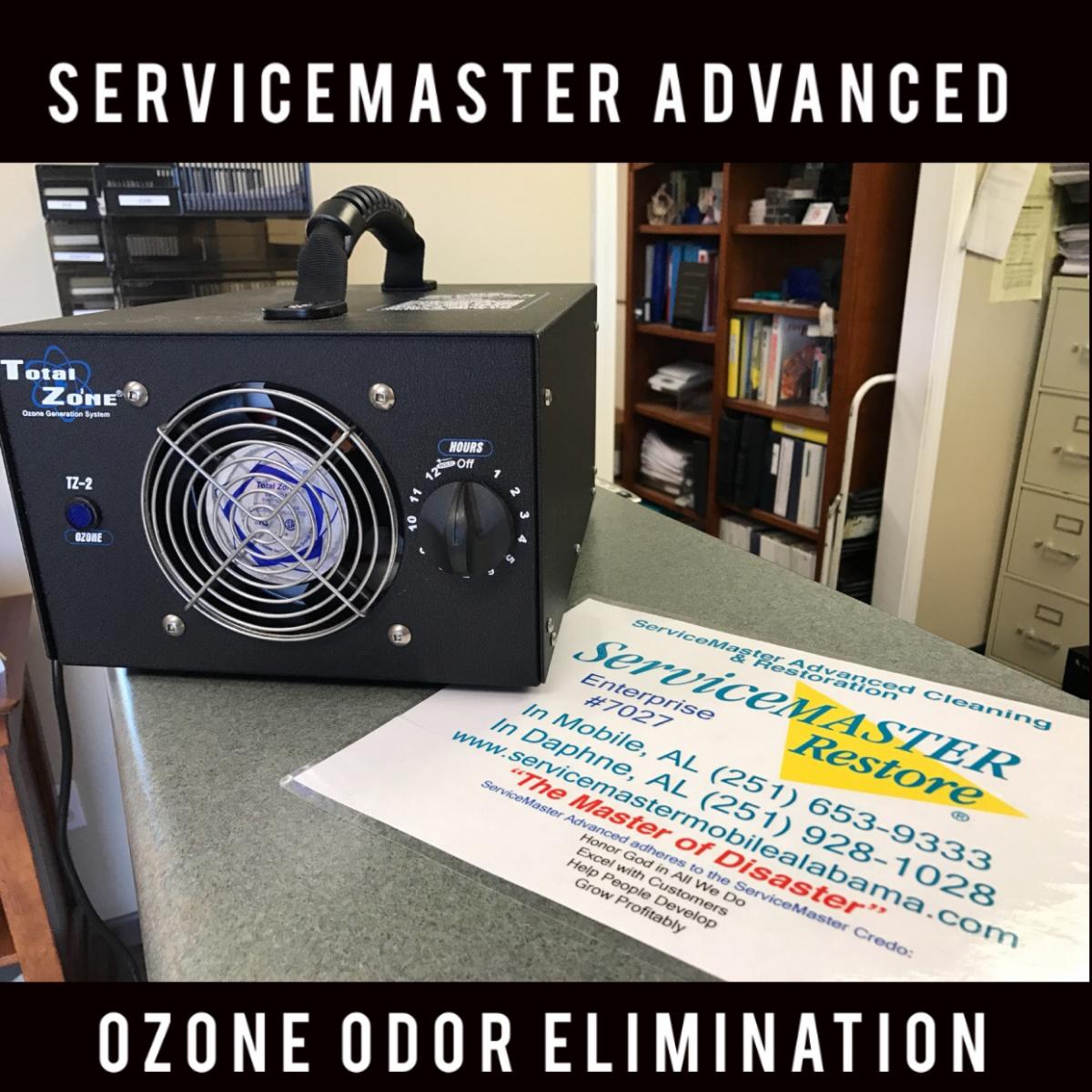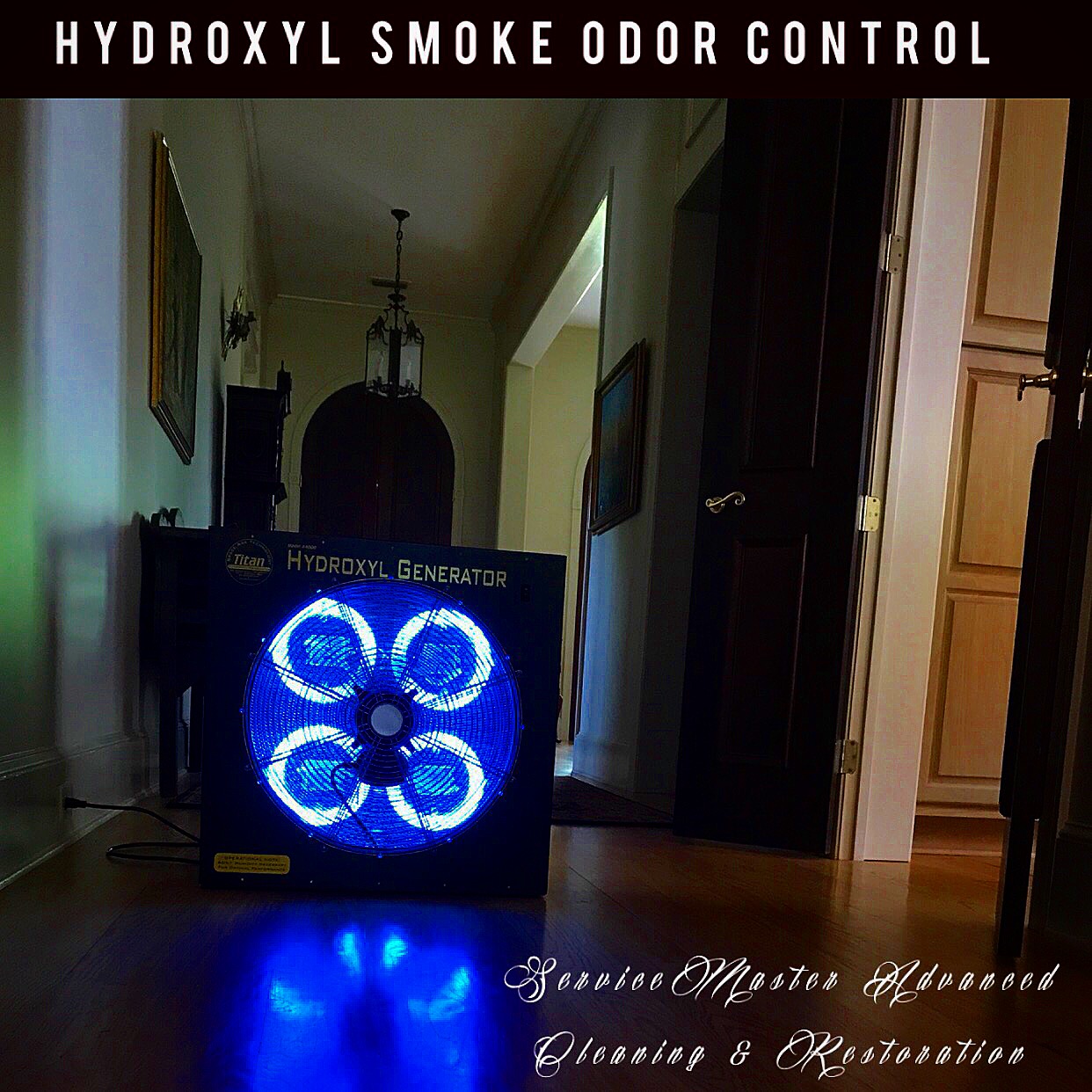 13. Building Leak & Water Intrusion Detection. We have water meters and an infrared camera to assist our customers in finding and solving intrusion or leak problems.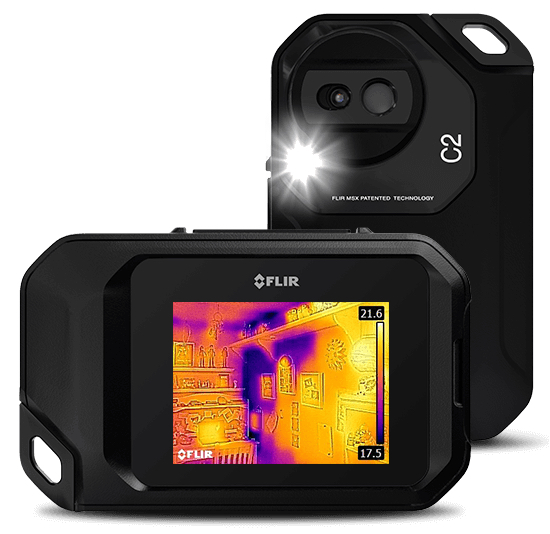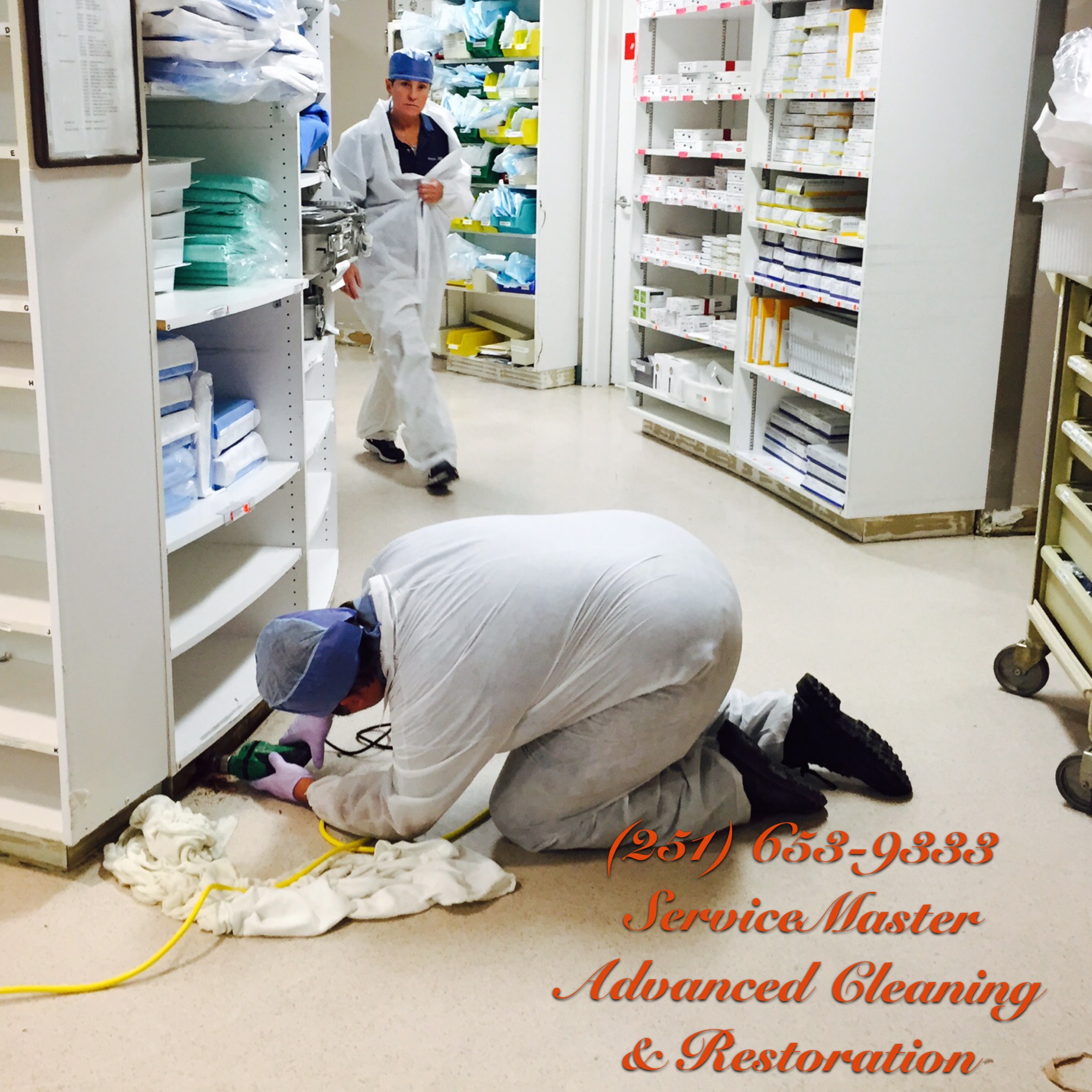 14. Paper Product & Expendable Sourcing - from paper towels & toilet paper to can liners & cleaning supplies, we can provide any expendable that you may need.
15. Specialty Cleaning - from vent hoods in restaurants, to ships, jets, luxury yachts and RVs - there is likely no man-made land-based structure that we haven't cleaned.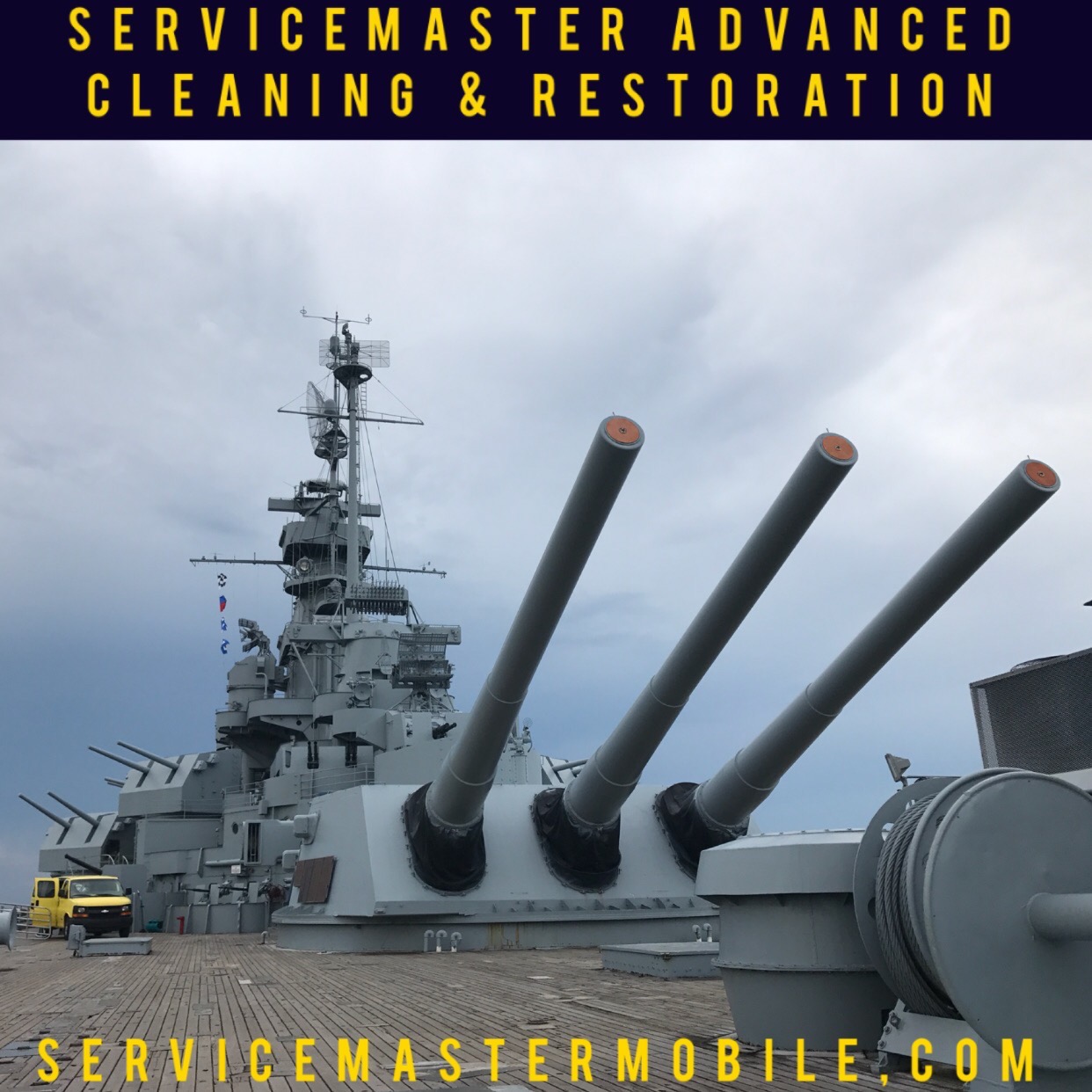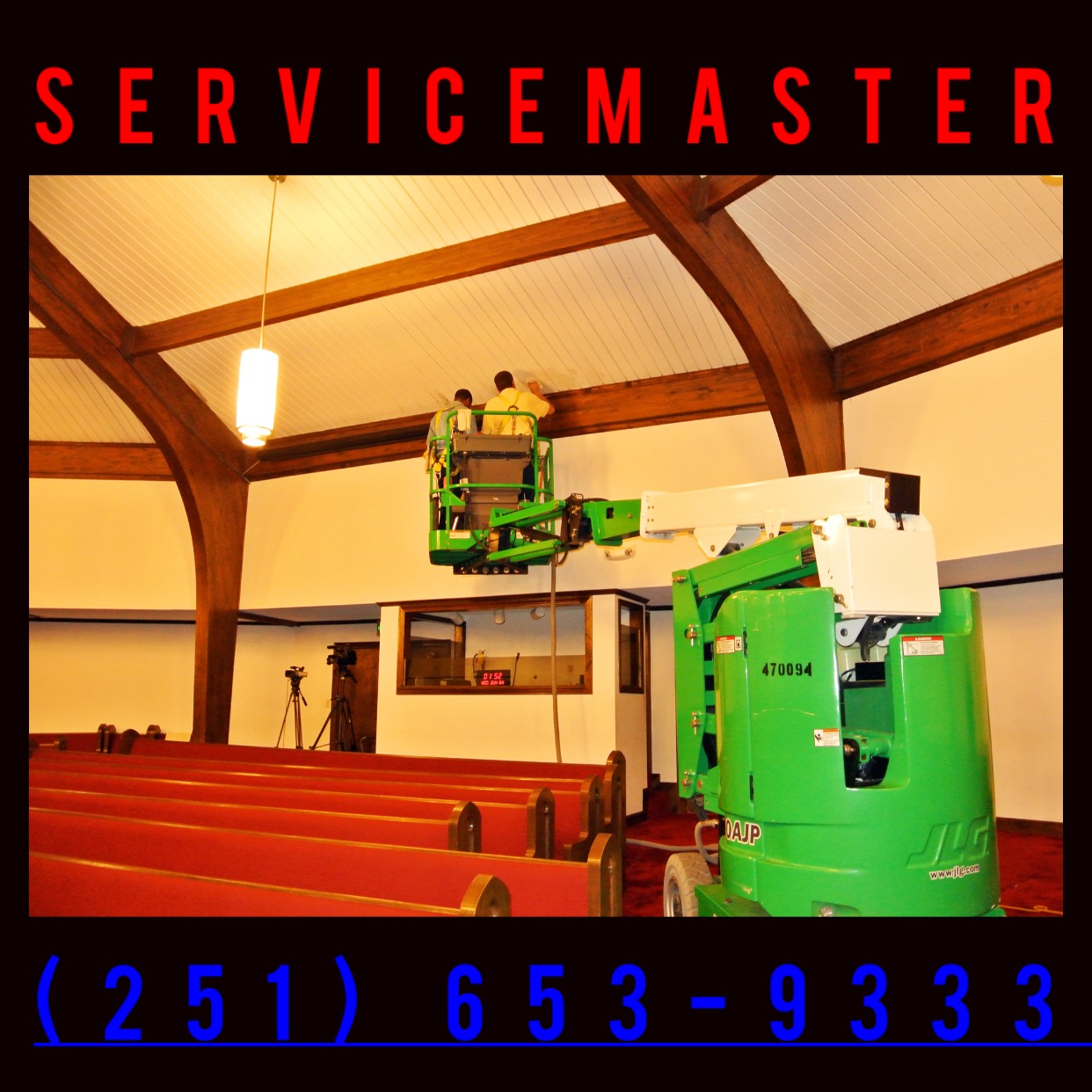 16. Duct Cleaning - in conjunction with mold remediation, fire restoration or as a stand alone service.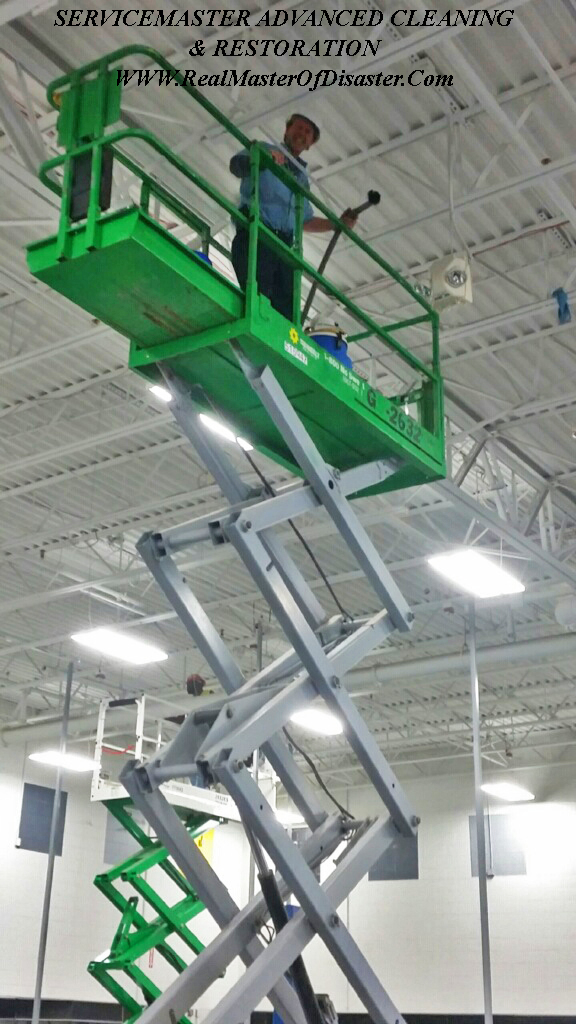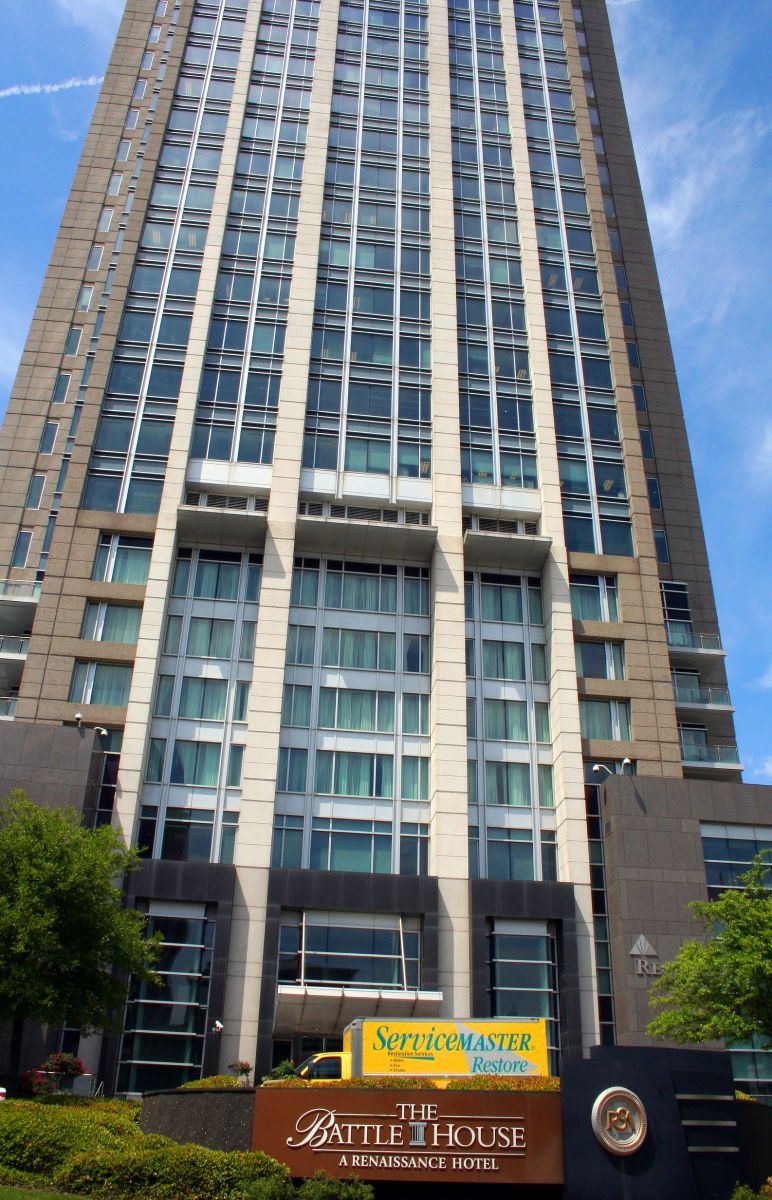 17. Large Scale Drying - Proven ability to handle large loss water damage restoration such as hotels, large office buildings & medical complexes. We have a built-in reservoir of janitorial people to draw from in times of catastrophic events and/or to handle large losses.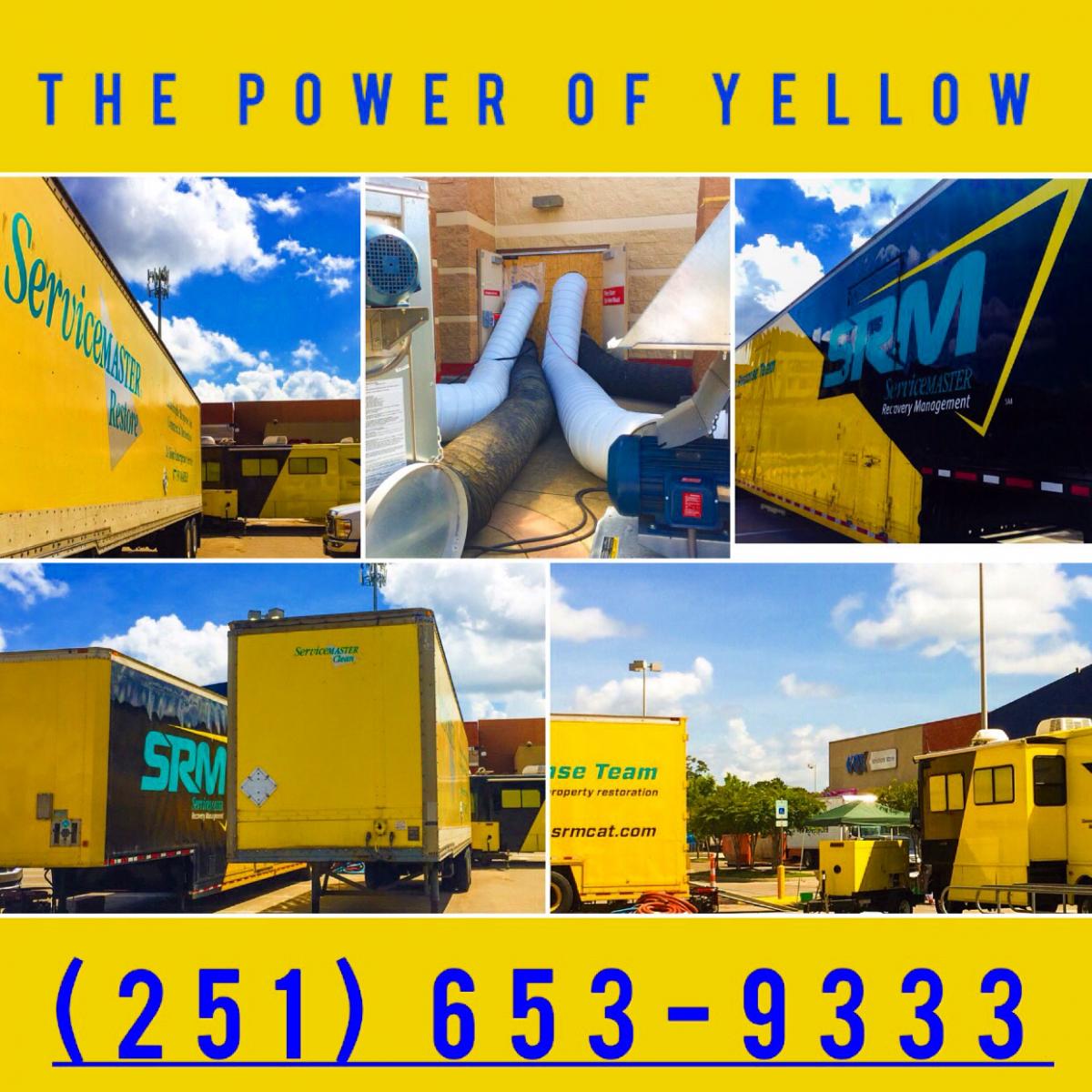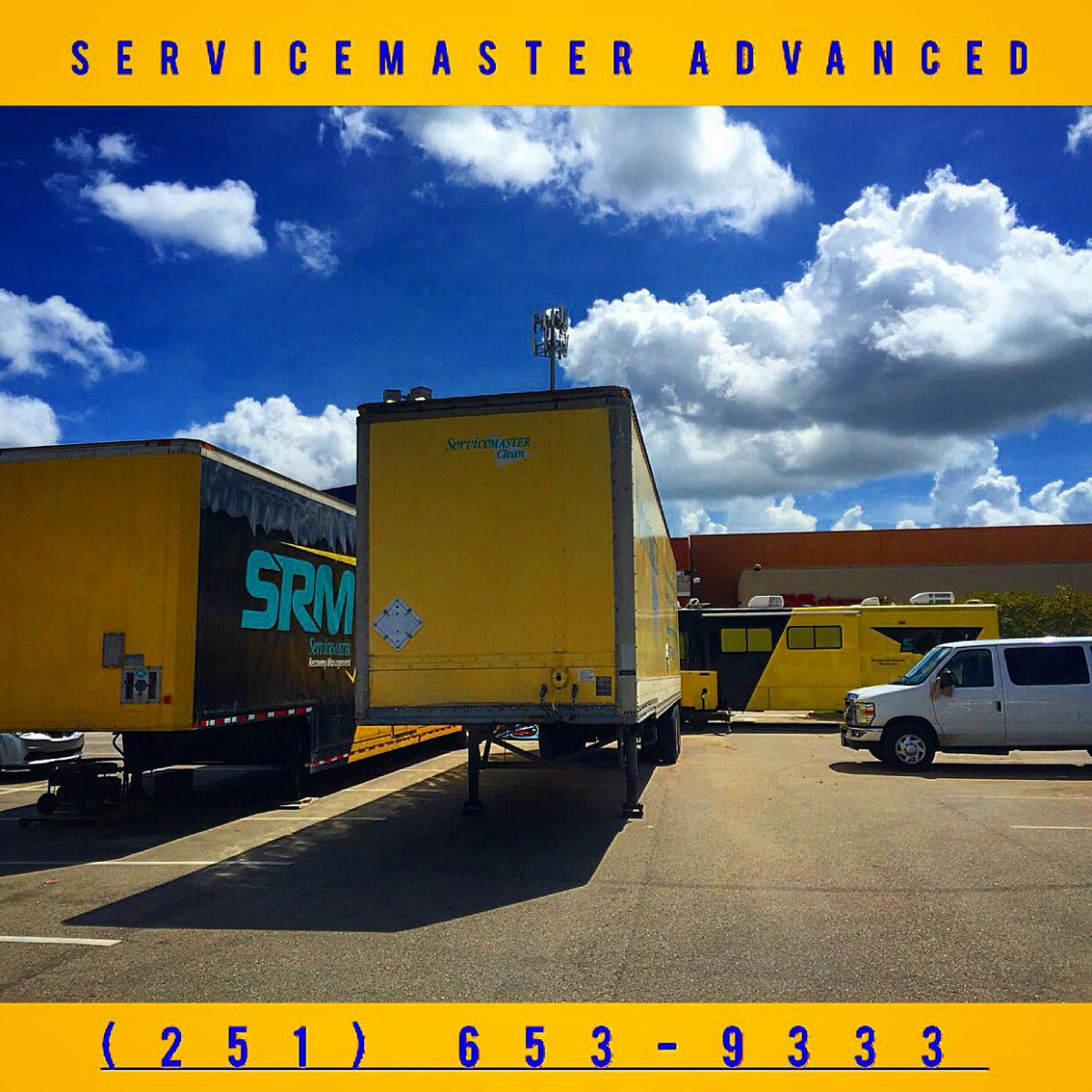 18. Medical Office Building & Clean Room Cleaning - extensive training & knowledge of the specific cleaning requirements of medical environments. HIPPA, blood borne pathogen and Healthcare 1,2, & 3 level training ensures that we understand your industry.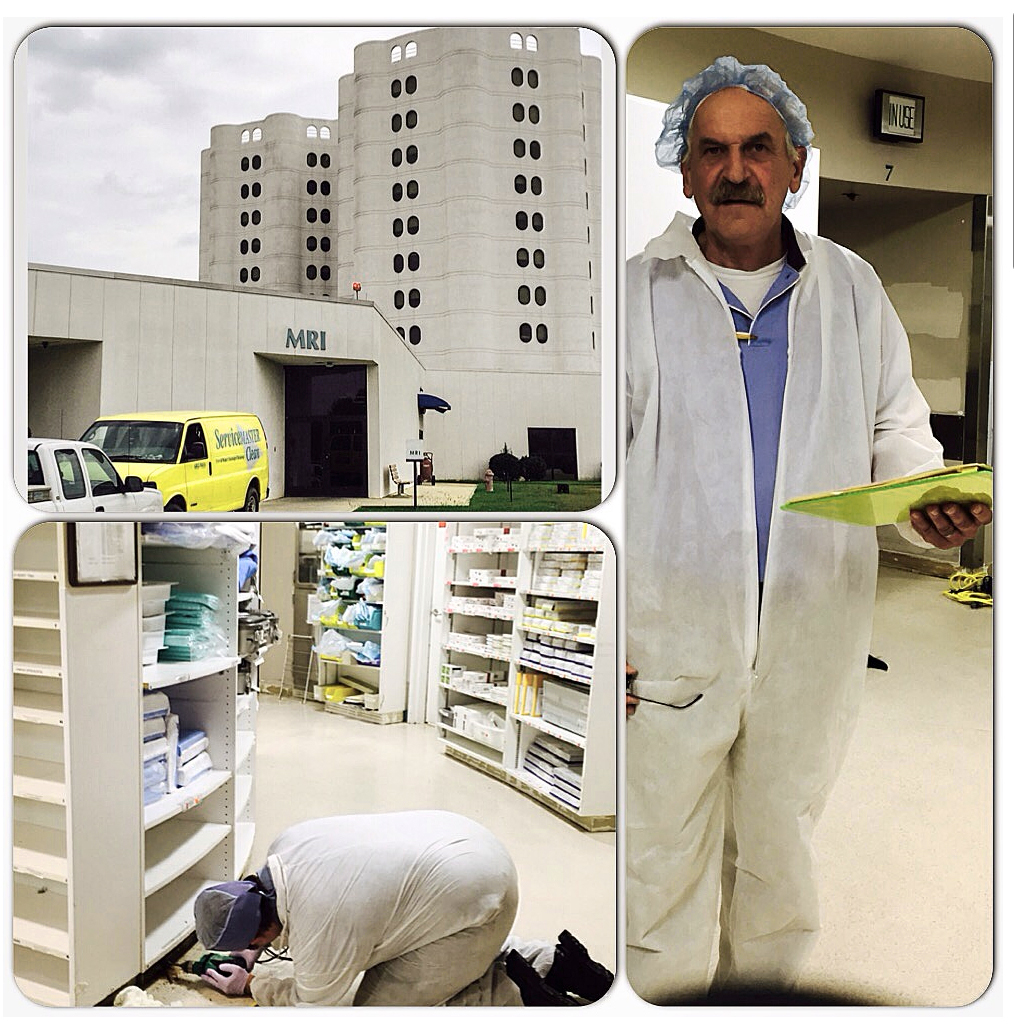 19. Upholstery & Rug Cleaning - we often clean hundreds of office chairs at once! We have attachments on our truck-mounted units specifically for cleaning our customers upholstery.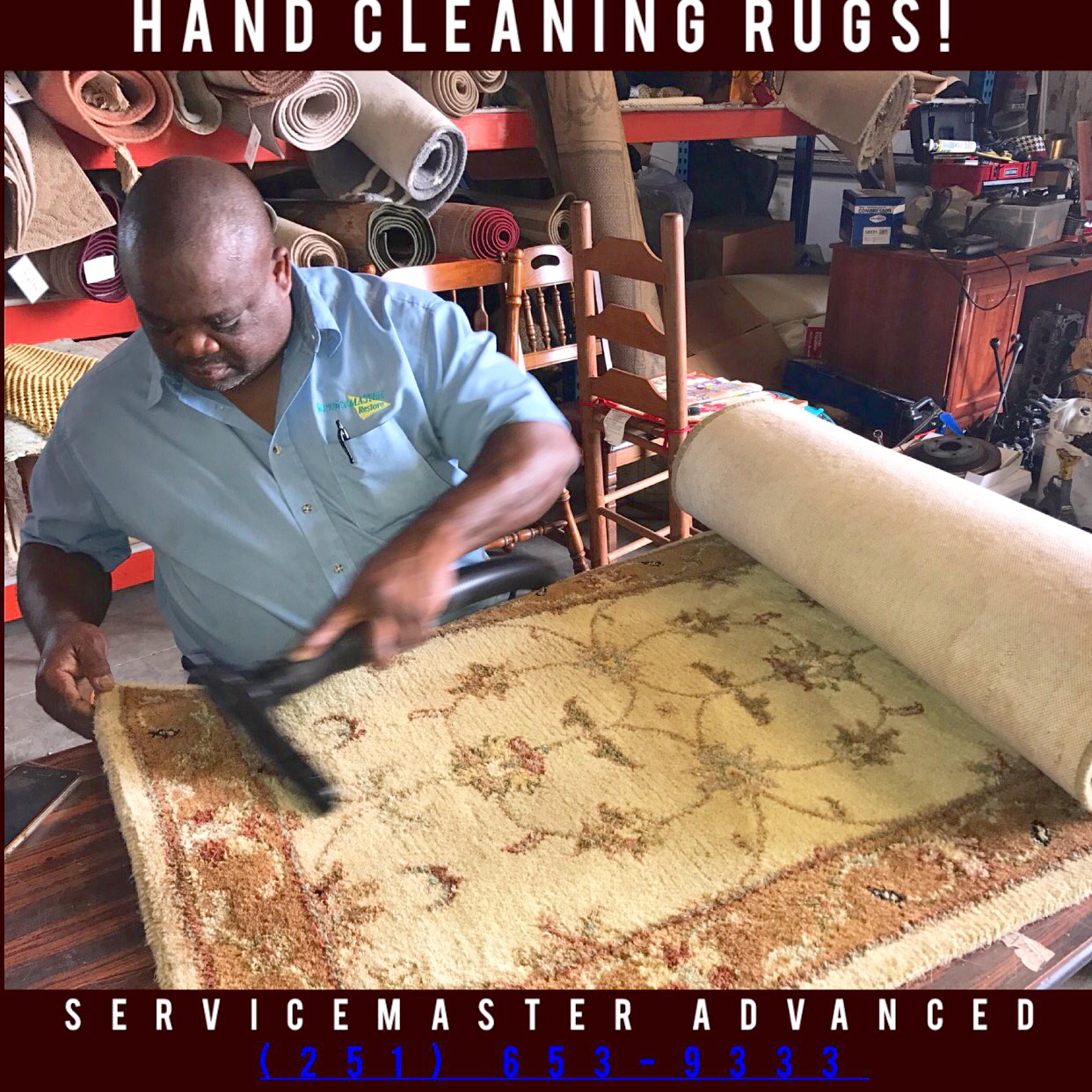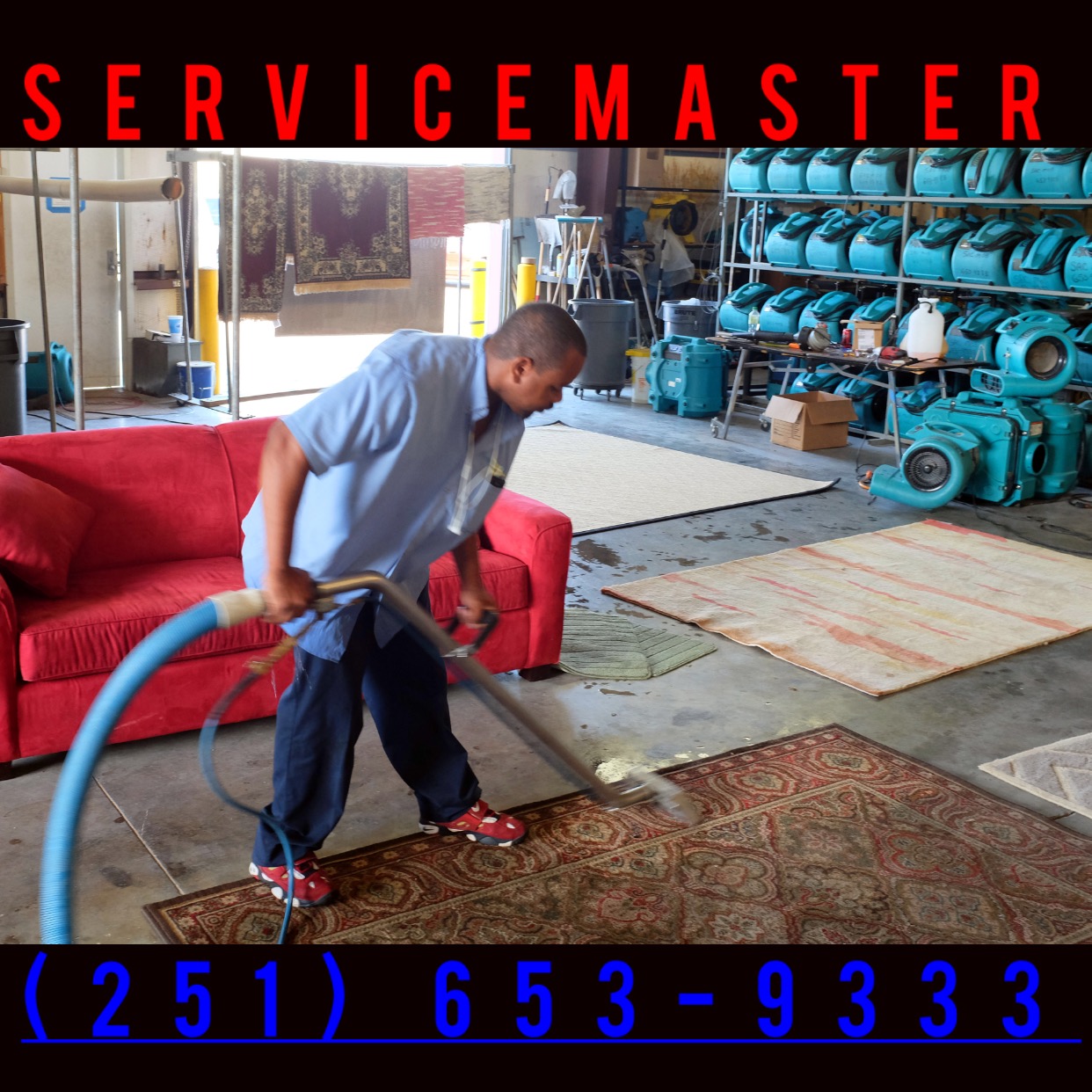 20. Detail Fire Contents Cleaning, Pack Out & Storage - in conjunction with a fire or water restoration project or as a stand alone service. NO one can clean your most precious contents like the ladies of Servicemaster Advanced. We have hundreds of pictures of family heirlooms that we have SAVED for customers.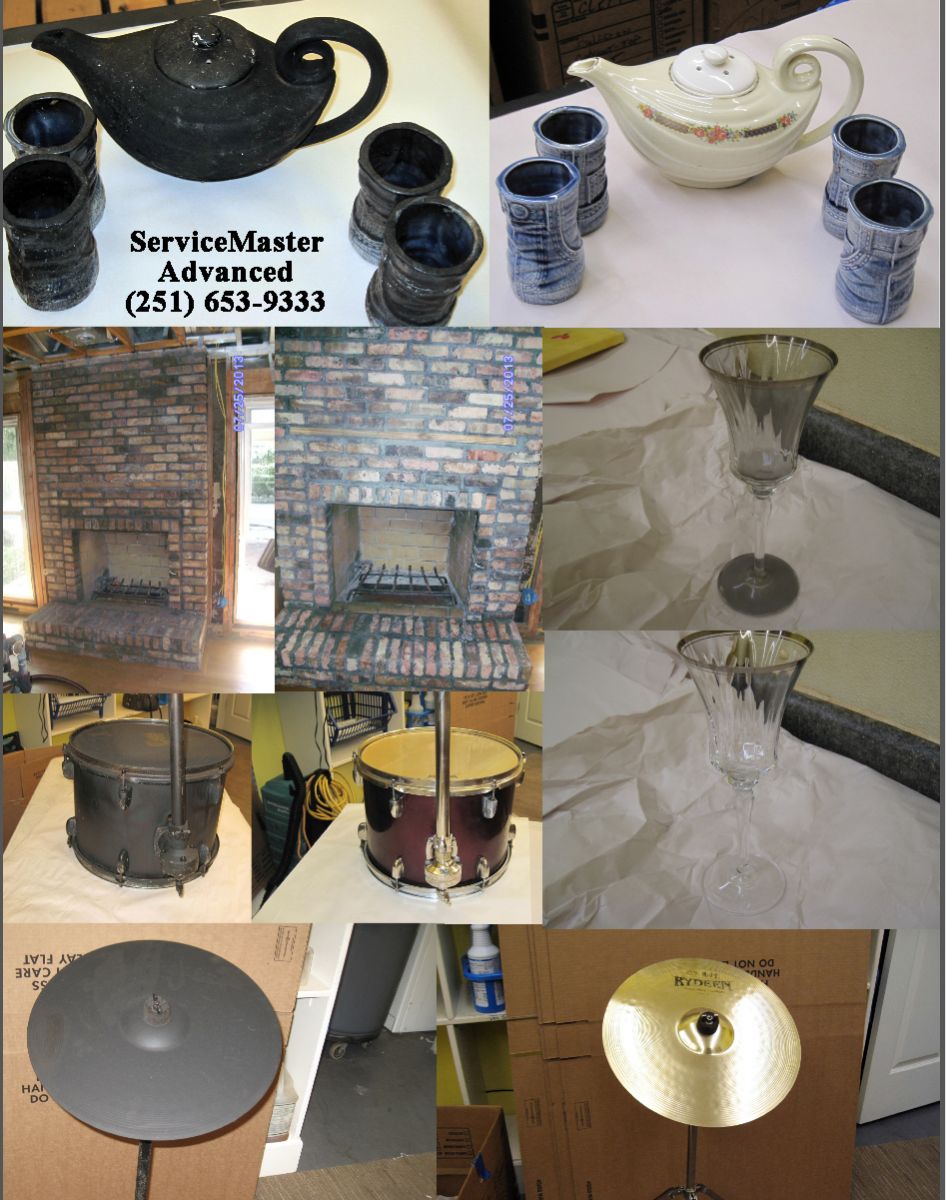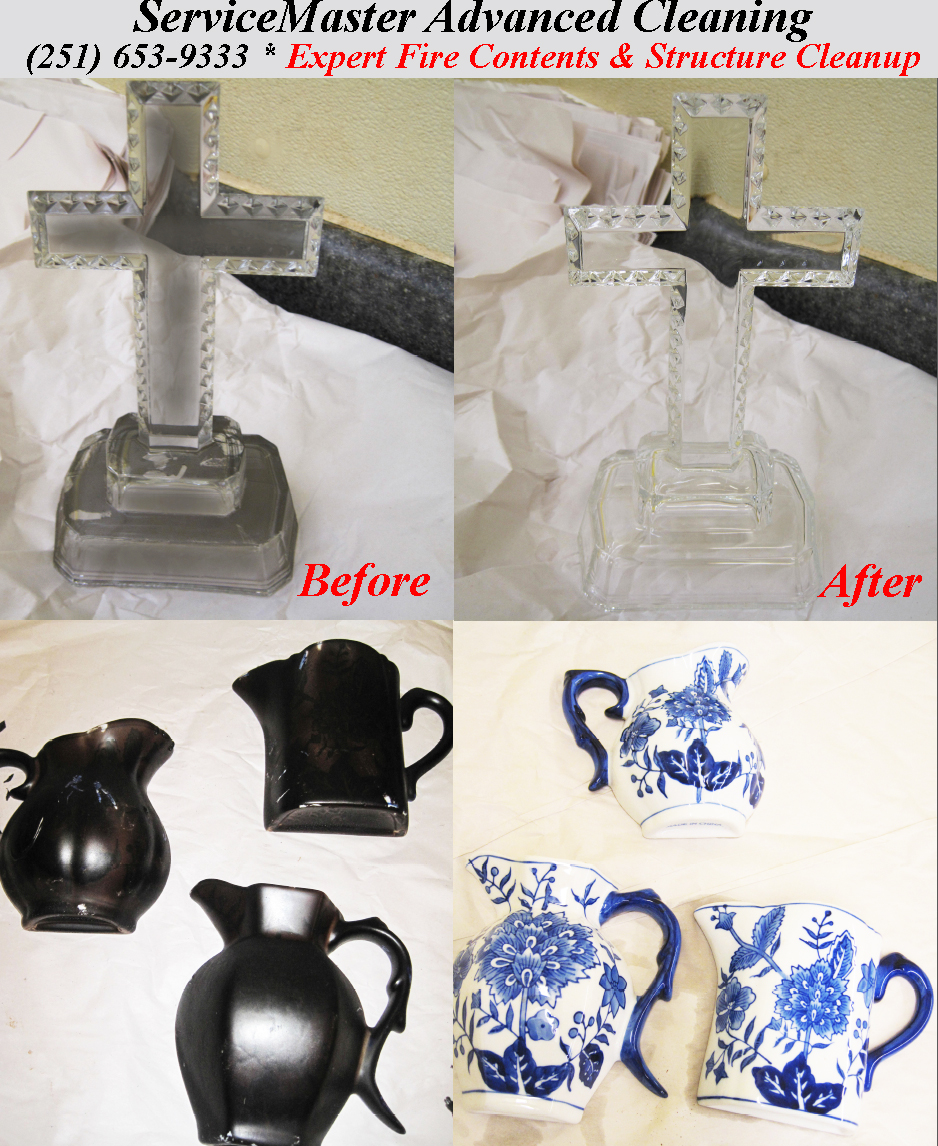 21. Debris Removal - if it is under a roof, we can find a way to remove it. We have cleaned out huge department stores and warehouses. We have the labor and the supervision to get it done quickly, efficiently and at a reasonable price.
22. Interior Demolition Services - usually in conjunction with a water or fire restoration project, we can prepare the structure for rebuild, or handle the turn-key service for you.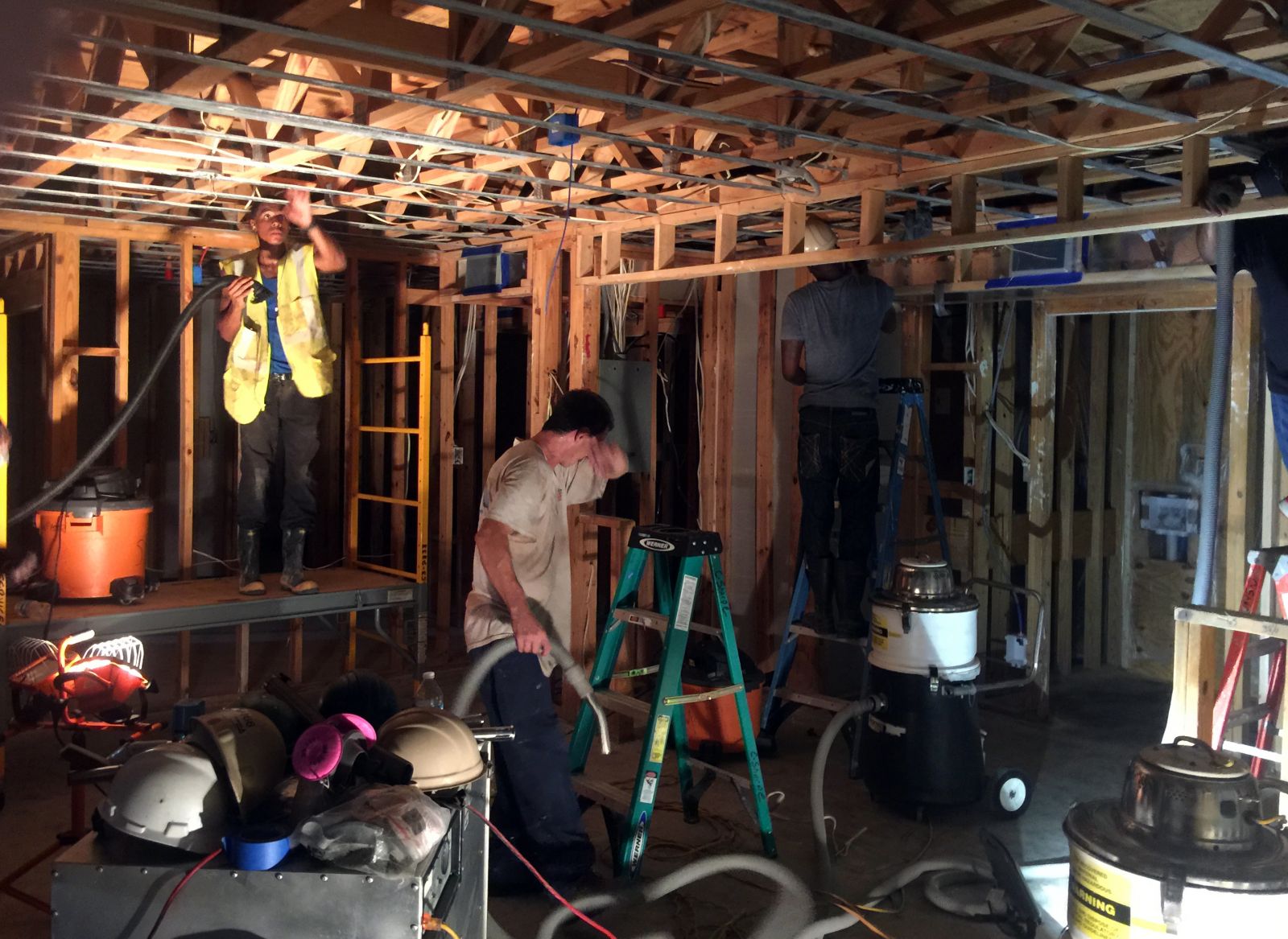 23. Turn-key Shopping Center & Office Space Turnaround - we remove the debris and trash left by the former tenant, and we clean the space to be ready for lease.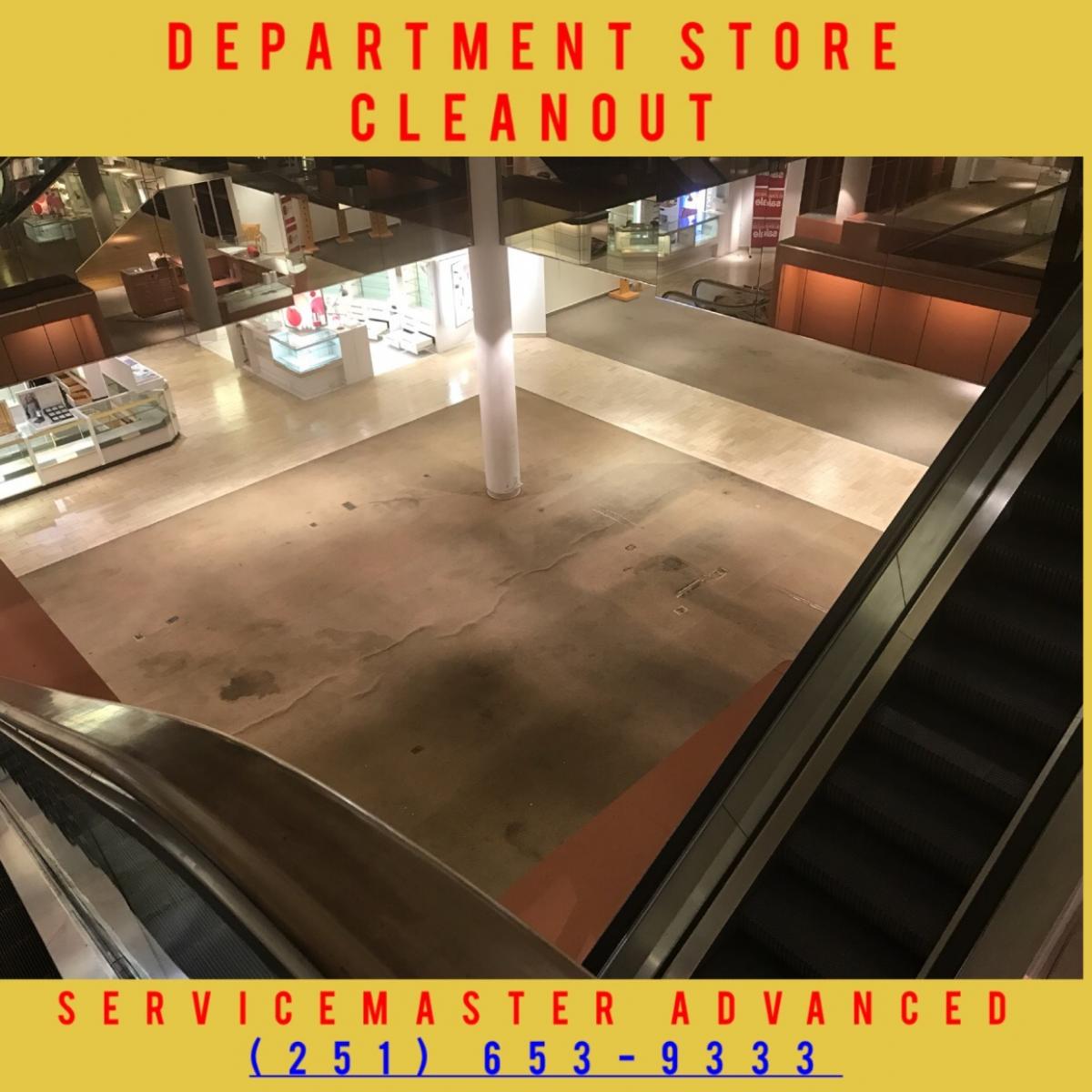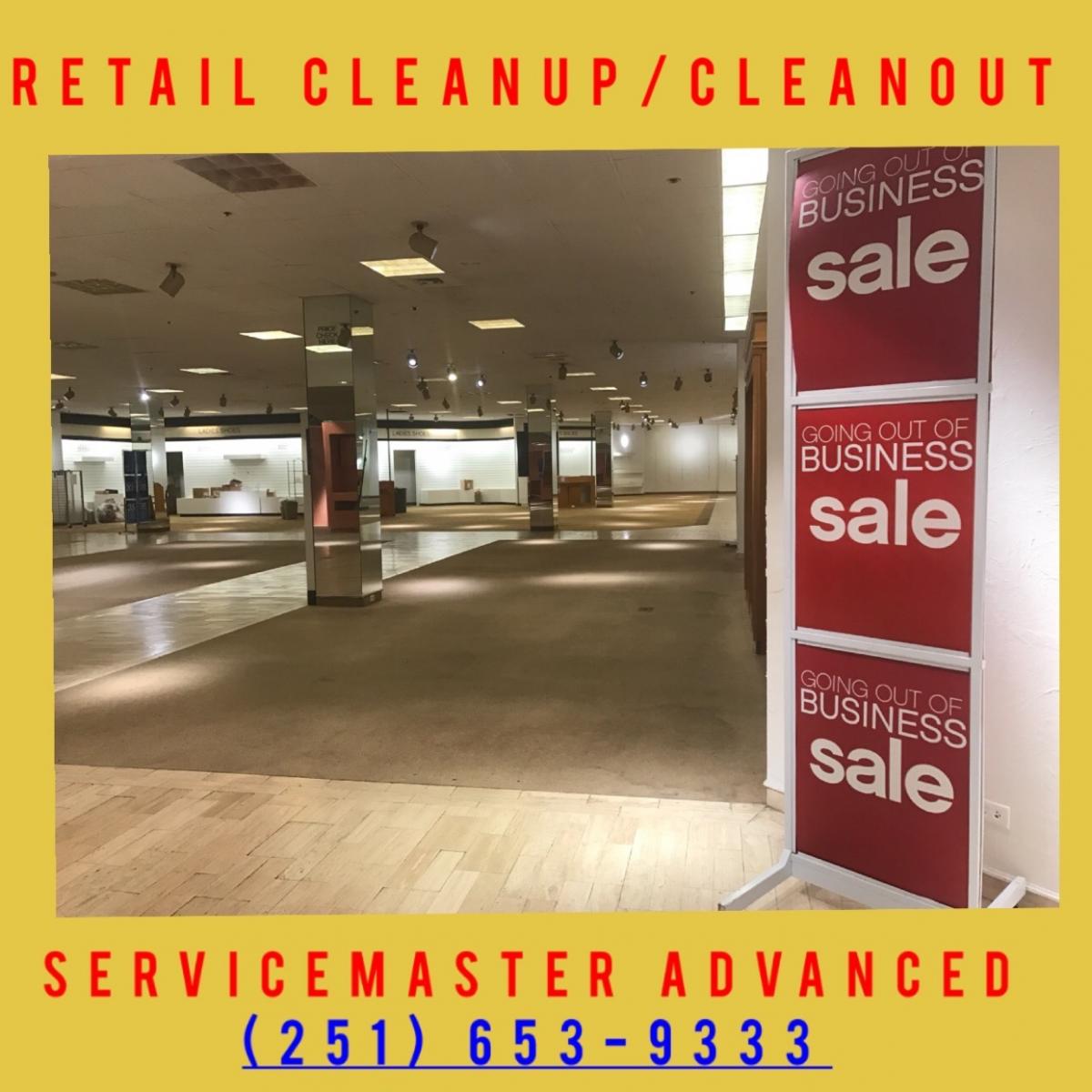 24 Large Hard Surface Floor Preparation - we have the large automated equipment to prepare large hard surface floor areas for occupancy after construction, or we can perform routine maintenance.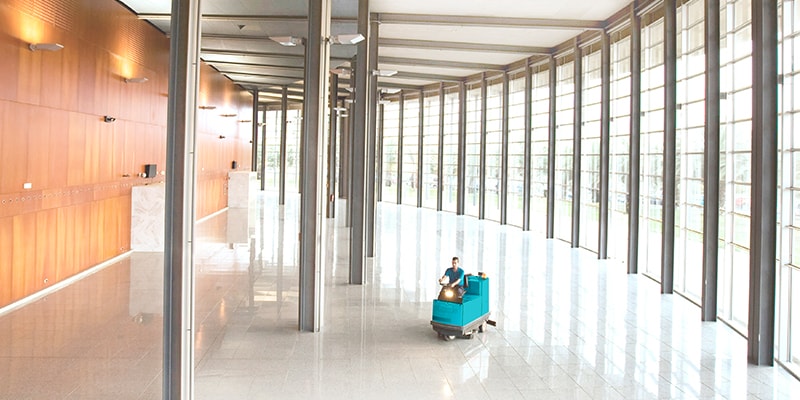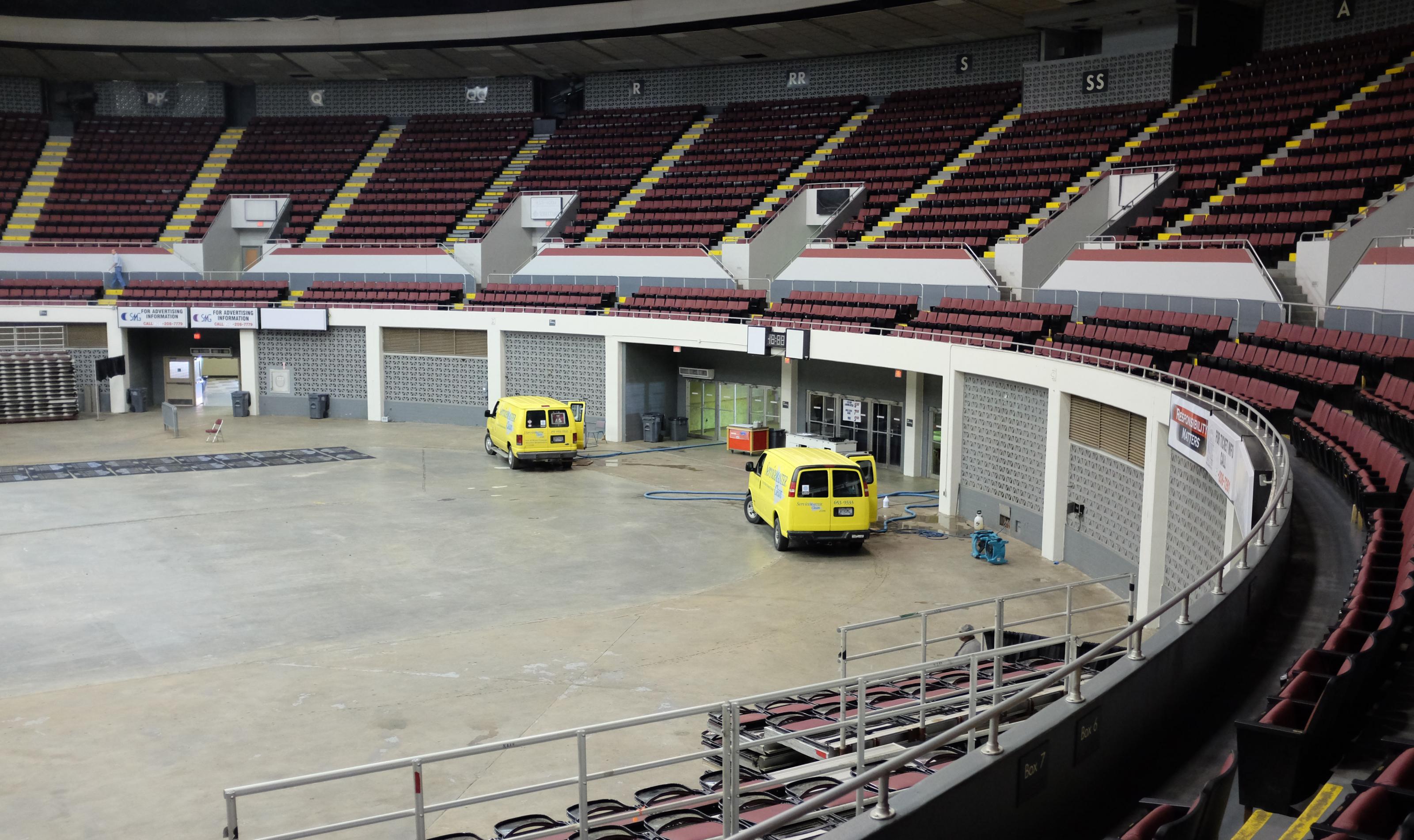 25. Construction Rebuild - after a fire or water loss, there are a number of ways we can assist, here is an overview: http://www.servicemastermobilealabama.com/ServiceMaster-Construction-Mobile-AL-1.html
Is there anything that we don't do in the field of cleaning and restoration?
We handle some of Mobile's most well know entities. In janitorial, we specialize in Medical, Industrial and Offices. We clean schools, ships and airplanes as well! We have one of the largest staffs of cleaning personnel anywhere, and we use the most modern of equipment and procedures. We are locally owned and unlike so many of the postings on the internet, we actually live and work here in the Mobile area.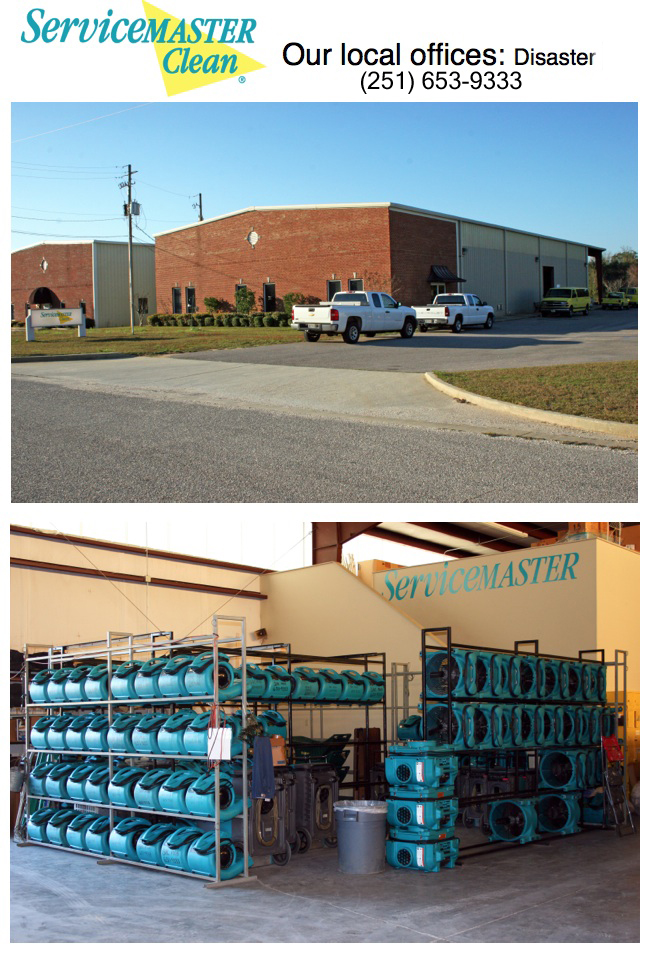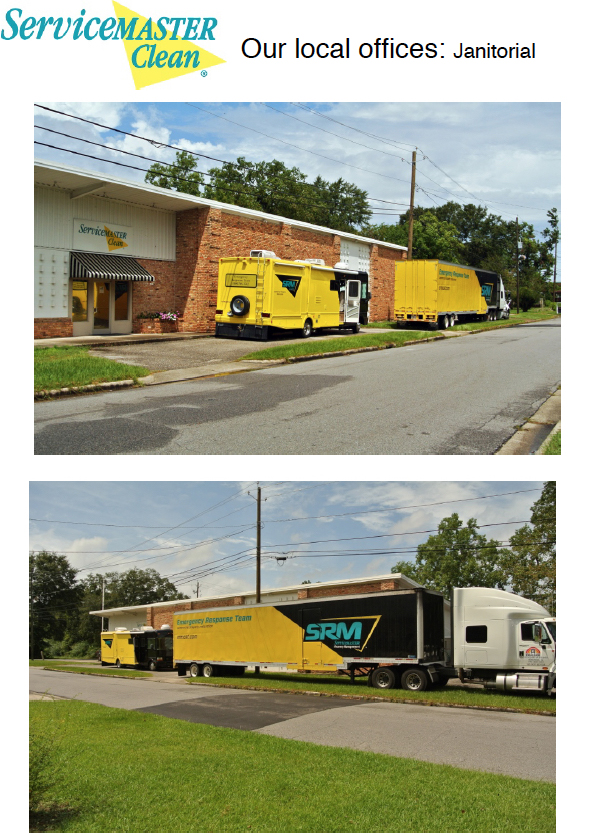 We are not a fire and water damage restoration company, or janitorial company that has set up a virtual presence on the internet, hoping to subcontract to another outfit. We are real. We are here. We go to church and school here. We pay taxes here and we are part of the volunteer community here in Mobile. We enjoy an excellent reputation and we care about your facility. Our prices are fair and our service is excellent and consistent. We do not underbid in the effort to get our foot in the door and then raise our prices. We do not believe in poor service and then come in once a month to raise the cleaning standard; conversely we believe in keeping your facility in first-class condition ALL of the time!
In case we have left anything out, below left is a flyer we use for post-construction cleaning. It lists our offerings in that arena. On the right below are some of the jobs we have performed at our sister company, ServiceMaster Advanced Cleaning & Restoration, The Master of Disaster.
ServiceMaster Services received this safety award in May of 2015 for the previous year, as we do nearly every year. This is for a full year of zero lost work days due to accidents. Since we do a lot of industrial work and commercial work, we make safety a priority.
Finally, and this one fact stands out alone and above all others, we adhere to the ServiceMaster credo espoused by ServiceMaster's founder, Marion Wade many years ago. We don't just talk about it, we live it. Wade had a strong personal faith and a desire to honor God in all he did. Translating this into the marketplace, he viewed each individual employee and customer as being made in God's image—worthy of dignity and respect. His successors, Ken Hansen and Ken Wessner, also shared his viewpoint. These three leaders shaped what became our company objectives:
Honor God in All We Do

Excel with Customers

Help People Develop

Grow Profitably